In almost all of the many stories posted about the Foxes' cross country teams and the runners' individual achievements over the past two years, junior Christian Fitch has been the lone male pictured among a posse of his most successful female teammates. It's possible he might have been overlooked at times, but in no way, shape, or form have his accomplishments been any less spectacular than theirs – especially after what he did last weekend at the PIAA Class AAA Boys' Cross Country Championships.
In his third appearance in as many years, Christian placed fifth among a group of highly talented runners. By doing so, he became the best cross country runner and highest state-level place-winner Tom Moul has coached in seven years heading the team.
A Mentality for Success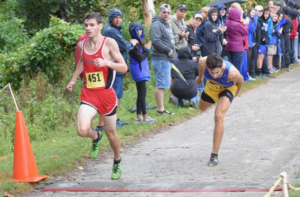 You could say that Christian's elite performance was a result of his frustration in the past. Last year at the PIAA race, he finished 30th and was far from satisfied with those results. So, beginning in June, and with a determined mentality to progress, Christian set some lofty goals for himself, worked even harder, and ramped up his training.
He saw the results of his labors all season long, but piqued at just the right time ­– just as he thought he would. On the Hershey, Pennsylvania, course that was swamp-like and more like a slip-and-slide in places, Christian dramatically shaved his 2017 time by six seconds.
"Last year was a perfect day, but I still ran better this year during awful conditions," says the junior, who claims many of the runners were practically climbing the hills because they were so muddy. "Until now, I've always felt that I've underperformed at big races and faltered at states. I was just so happy that I finally had my best performance at the biggest race of the year. To be able to finish the year with a succession of strong races really made me happy."
"His performance was impressive and I was extremely pleased," says Coach Moul. "At the one-mile mark, he was right in the mix with the top runners, but we know from experience that a lot can happen before the end of a race. Then, at two-miles I think he was fourth, looked really strong, and I figured he would not lose too much ground before he got to the finish line."
Tough Road to States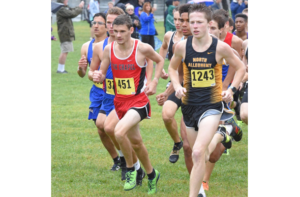 Prior to qualifying for this year's state finals, Christian had some tough hurdles to overcome. He had won the Gateway Invitational, earned the WPIAL Class AAA Section 4 individual title, and even beat the eventual new state champ at the Red, White, and Blue Invitational earlier in the season, but the competition at WPIALs was fierce. The fact that four of the top five medalists at states – and six out of the top-10 – represented the WPIAL, is a testament as to the difficulty of qualifying for the state race.
"It helped that I've run with all of these guys before," says Christian, who thinks he runs his best when he's relaxed. "I'm familiar and comfortable with them, so I was loose and felt good."
New Goals
Before Christian starts to train for outdoor track, he will travel to New York over Thanksgiving weekend for the Foot Locker Northeast Regional.
"I ran my best at states, and that gave me a lot of confidence," he says. "I had waited to make my final decision to go to Foot Locker based on what I did at the championship race. I wanted to know that I had a chance to do well and that I could compete at such a high level. I feel now that I can do that and I'm hoping to do well enough to advance to nationals."