There's been a lot of excitement on the boys' lacrosse field lately as the team has celebrated some big wins, including the one that earned the program its first section championship since it became a Fox Chapel Area interscholastic sport nine years ago.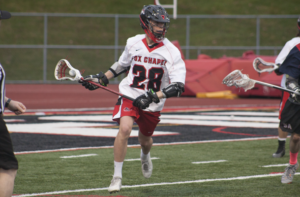 While there's no doubt the team has a lot of talent, two players stand out for several reasons. Not only have they been instrumental in boosting the team's pedigree, they also are carrying on a "deep-rooted" family tradition in the sport.
For Bradley and Devon Root, playing lacrosse started early on when their father's interest in the game filtered down to his three boys – junior Bradley; sophomore Devon; and Tucker, who played for the Foxes from 2013-2017, graduated as an All-American, and now plays for Denison University.
Their father wanted to share his love of the game, and had been a quality high school and college player, although Bradley says with a wry sense of humor, "He tells us he was good, but I have no proof of that."
What their father was good at as an adult was promoting the sport, especially in the Fox Chapel Area where he was a big part of Pittsburgh Youth Lacrosse (PYLAX) and coached for the club when his sons were younger.
"I distinctly remember when I was in my brother's room when I was in kindergarten and my dad said to Bradley and me, 'Would you have an interest in playing lacrosse?'" says Devon, who scored 31 goals and 5 assists this season. "Tucker was already playing, so of course we wanted to do what he did."
Now, more than a decade later, Bradley is in his second year as a captain of the Foxes' team, and doubles as the group's speaking captain. That distinction means he is the only player permitted to talk to the officials, a duty assigned to him because of his level-headedness and ability to express his viewpoint in a reasonable manner. He's also been a prominent scorer with 26 goals and eight assists.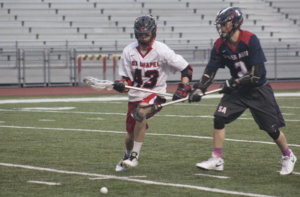 In assessing his abilities, Coach Kevin Devinney praises Bradley for his skill in playing well on both sides of the ball, assets that most likely were considered when he was named to several 2019 Pennsylvania boys' lacrosse watch lists.
"I give Bradley free range to play as much as his endurance will let him because I want him on the field as much as possible," says his coach. "He has the intangibles that few players in the league have. He has a great left-handed shot on the run, a profound understanding of the game, and the athleticism and talent to make him a special player. Inherently, he just knows what to do in every situation on the field and is very smart with or without the ball."
Even so, Bradley still wants to achieve more.
"I was a freshman when Tucker was a senior and a captain" he says. "He was the player I always looked up to and I think that's where I get some of my leadership skills from. I have a lot of motivation to be better than him and also to set an example for Devon, like Tucker did for me."
Devon, whom Bradley jokingly says is the family's procrastinator, is having quite a year and shows no signs of dragging his feet when he's on the field. In fact, Coach Devinney says he's probably the best shooter on the team, an assessment that the brothers agree with, and is having a breakout year.
"One of his goals this year was to score one goal per game, so he's well surpassed that mark with a 1.6 goal per game average," says Coach Devinney. "Like his brother, he is a very hard-working individual.
"I think my quick skills have really helped my shooting game and I practice a lot, just in my front yard sometimes, to get better," Devon says. "Right now I see that as my role on the team, but I want to become a better dodger and a more versatile player."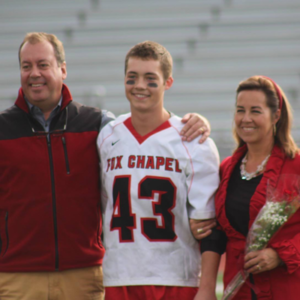 Even now, with so many accomplishments behind him, Devon still has vivid recollections of the days when his father first taught them the game.
"I remember exactly where I was and what happened," Devon says. "My dad threw the ball and I was just standing there holding up the stick, not moving at all, when the ball went into the pocket," he says. "That was the first 'catch' I ever made."
While the brothers say their mom is their biggest cheerleader and they can often hear her from the stands, they both live by some of the advice their father has imparted.
For Devon, the advice he draws upon is more about the game and says, "I think the most important thing my dad has taught me is to keep my head up and see what the game gives me."
Bradley has taken to heart a philosophy that can be applicable in sports and life in general.
"He has always told me to give it my all and make decisions now that will positively affect the rest of my life," Bradley says.
That's perfect advice for a couple of solid young men who are proudly living out a great family tradition, and have every intention of adding to it in the years ahead.