Expectations are always high for Foxes boys' soccer, and this year is no different, despite facing the arguably toughest schedule in program history. But two juniors, Josh Miller and David Shin, have proven to be outstanding on defense and are making the big plays that they hope will earn the team another trip to the WPIAL 4A playoffs.
"Based on the strength of the section, we are relying on Josh and David as leaders on our backline," says Coach Erik Ingram. "They are both strong ball winners and have settled into the roles of bringing along the group of young defenders that surround them."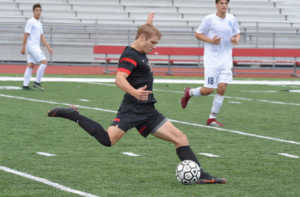 Josh, all-section and All-WPIAL picks last year as a sophomore, is known as a very physical and aggressive player and excels as one of the WPIAL's best in the air. He's also demonstrated great capability of winning balls on the ground.
"The time Josh spends in the gym year-round has enabled him to hold off the physical play of opponents when possessing the ball," says Coach Ingram. "He is one of the most dominant players in the air defensively that I have ever coached here at Fox Chapel Area High School."
"I see my role as following our coaching, keeping the team together, and not letting the ball into our net," says Josh, a natural athlete who began playing soccer when he was four-years-old and loved it from the start. He also is a dual athlete who spends the winter wrestling.
David has spent a great deal of time honing his game to become the player he is today. He hit the gym to improve his physical strength, worked a lot on his endurance, and dedicated extra practice time to take his 1 v 1 defending to a new level. That focus – and his success – came as a result of a disappointment he experienced when he was 12-years-old.
"I was the last person taken on my club team and since then I have been motivated to be the hardest-working person on the field," David says of his intense focus. "Since then, I have always been grateful for the opportunity to play soccer."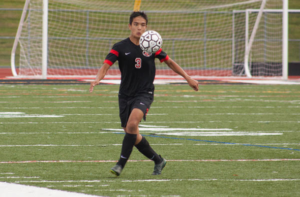 Coach Ingram adds, "David has made great strides over the past year, improved his game in the air, and settled into a more dominant role in the back. He's also giving us some versatility by occasionally moving from center back to outside back."
"We are inches away from being a top-three team in the section," continues Coach Ingram. "We have shot ourselves in the foot a couple of times, but if we can mature a little bit as a team, we definitely will right the ship and get to where we need to be for playoff time."
The experience the coach is looking for seems to be coming as the season progresses. They went into October riding on a four-game winning streak, have five shutouts for the year, and have had nice victories versus Central Catholic, Mt. Lebanon, and Penn-Trafford.
"To get to the playoffs again, we just need to shake some bad natural habits. When we do that, we work the ball around the field really well," Josh says.