Ben Kronman is an anomaly at the Pittsburgh office of the Make-A-Wish® Foundation where he has volunteered for three years and donated more than 200 hours of his time. Among a sea of 800 volunteers in the field and the office, he stands out, and in a very good way. The Fox Chapel Area High School senior athlete is the organization's ­only high school volunteer at the moment, male or female, and according to Chief Operating Officer Ann Hohn, is the only non-Wish male high school volunteer she's come across in the 26 years she's been with the non-profit.
"He's such a super kid and a sincerely nice guy," says Ms. Hohn of her young volunteer. "He brings a great energy with him and he has a great work ethic. Ben has always been open to any project that needs to get done no matter what it is. We are so happy to have had him volunteering with us for the past few years."
But assuming a leadership role is nothing out of the ordinary for Ben, an honors student who is also a standout on the Foxes' indoor and outdoor track teams. It's a role he comes by naturally as the oldest of four children and after watching his family's involvement in the community. As one of his activities, Ben's father Jeremy has had a long association with the Make-A-Wish Foundation, so following in his path seemed like a good idea, but Ben's decision was much more carefully thought out and was visceral one.
"I remember when I was younger and saw the stories of Wish kids and their families and being amazed at how much hope and strength they got from having their wishes granted," says Ben. "I'm just drawn to helping sick children and their families in their time of need, and I see granting a wish and changing these families' lives for at least a little while as a very important thing to do," Ben says. "Granting them a wish can really be an important turning point in their therapy, attitude, and state of mind."
Although Ben does not have direct contact with Wish families, he is very involved in the logistics and back end of granting wishes. He says some children wish for shopping sprees or bedroom makeovers, but most have one of two things in mind.
"The majority of wishes I work on are Disney wishes, which are a really great thing, while other kids want to meet their favorite athletes or celebrities," says Ben, who finds the Wish offices very uplifting, especially the walls that are adorned with pictures of beaming, happy Wish children. "The Pittsburgh office alone grants over 700 wishes a year, so getting to be involved with even a small part of that is inspiring and very rewarding."
But Ben also has learned things don't always turn out as planned.
"Just last week, I was working on a wish to cheer up a very sick boy who wanted tickets to go to a Steelers' game and a chance to meet one of the players," Ben says. "The situation caused me to be very anxious because we were all trying to get his wish granted quickly, but he ended up getting too sick to attend and it never happened. Sadly, this happens a lot and we often deal with kids who have to postpone their wishes. This particular boy's situation really affected me a lot, but it also made me want to work even harder for Make-A-Wish."
Ben also says that volunteering at Make-A-Wish has made him a better, stronger person, and a more disciplined athlete and teammate. He explains, "I know how much these kids would love to get out there and compete, so it has inspired me to really appreciate having strong legs and the ability to run."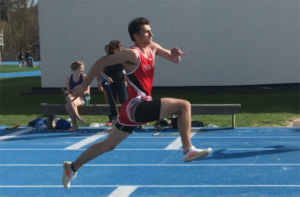 That realization, combined with a strong work ethic and talent, have made Ben a respected competitor on the Foxes' track teams and a role model for the other athletes. Last season as a junior, Ben was voted by his teammates as captain of the boys' outdoor team. Last season he also set the school indoor record in the triple jump and another record with the 4 x 200 meter-dash relay team. In outdoor track last season he set personal records in all of his jumps and qualified for the Class AAA WPIAL finals in the triple jump. As a sophomore, he qualified for the Class AAA WPIAL finals as a member of the 4 x 400 relay team.
"Ben is a very compassionate person who is always willing to help others," says his track coach Tom Moul. "He is a kid you really root for because he's such a good person and hard worker. As
After doing so much for others and setting such a great example for his peers, Ben recently learned that he'd had one of his own wishes granted: he was accepted at Emory University, his top college choice, and will run track for the Eagles in fall 2018!
It just goes to show that the more happiness and goodness you spread, the more likely positive things will find a path back to you.
~~~~
The Fox Chapel Area School District students' 28th annual telethon proceeds will be donated to Make-A-Wish. If time permits, Ben will make an appearance on the broadcast at noon. The Fox Chapel Area High School Student Government and the digital media production students of the high school coordinate the telethon. It will air Friday, December 22, 2017, from 11 a.m.-1 p.m., and will be streamed live on the Swift Fox Media YouTube Channel. The link to the broadcast will also be available on both the district's website and Facebook page.
 Ben also urges people to make donations through the Make-A-Wish website.