While Cara Reese was a student at Fox Chapel Area High School from 2007 to 2011, she was a standout volleyball player who played varsity all four years, earned all-section and all-WPIAL honors multiple times, was named to the MSA Sports All-Star Team of Western Pennsylvania in her senior year, and was a cornerstone in helping the team return to the post season playoffs after several down years.
The middle hitter/blocker went on to play for West Chester University of Pennsylvania, where she was named Scholar-Athlete of Year in 2015, and when Cara graduated she was ranked third in school history for blocks per set, with an average of 1.25 per set.
Admittedly a bit of a thrill seeker, Cara found that she still craves the excitement and adrenalin rush that she got from competing, which has led her to try extreme sports – skydiving, swimming with sharks, and whitewater rafting – some of which she did while she was still in college, and some afterward. Cara's propensity for taking on challenges also led her to tackle a 15-month renovation of her home from top to bottom to create a more modern feel. So last year when Cara got an unexpected phone call from a former coach to join her staff, her sense of adventure and excitement once again kicked into high gear.
"My high school coach, Sara Kirsch, reached out to me last year when she needed an assistant coach and I immediately jumped on the opportunity to get back involved with my alma mater," says Cara, who headed the Dorseyville Middle School girls' team and the high school girls' junior varsity squad last season – each of which won major tournaments last season – and also serves as the high school varsity assistant coach. This upcoming season, she will focus solely on the two high school teams. So far, her experience on the flip side of the sport has resulted in some "aha" moments!
"After I started coaching, I quickly realized that having played only one position for so many years, I never truly learned the ins and outs of the other positions," says the 6' coach, whose sister and brother also played for the Foxes. "I knew the rotations and where my teammates needed to be set up on the court, but there are so many other aspects to take into consideration. I rapidly learned much more about every position and developed a new appreciation and understanding of how team-oriented the sport really is, and that every single member has to contribute or the team won't be successful."
Rise to Stardom
Cara's rise to volleyball stardom began when she was in seventh grade and considering what sport she wanted to play. Always the tallest girl in her class, especially when she got to middle school, Cara figured her height would be an asset in either volleyball or basketball.
"Greg Laun, the middle school girls' volleyball coach at the time, insisted that I try out fro his team because of my height," recalls the substitute teacher who is seeking a full-time position and also is pursuing her master's degree at Slippery Rock College. "As soon as I tried out, there were so many exciting parts that kept me involved. I loved how competitive it was, and I loved being able to hit the hardest or block a ball straight down. I owe a lot of my success to Greg for showing me to love the sport so early on."
She passed on her passion for volleyball to her two younger siblings. Her sister Anna, whom Cara says is the "short" member of the family at just under 6', was a freshman on the team when Cara was a senior. Her 6'8" brother Jack played for the University of Hawaii last year as a freshman and was a member of the 2015 Foxes' boys' team coached by Phil O'Keefe that earned the PIAA silver medal.
Coaching at FCAHS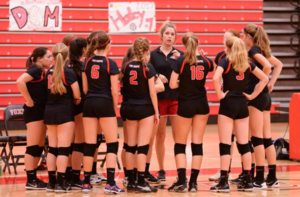 With the 2017-2018 school year and pre-season only a little more than a month away, Cara is anxious to begin her second season alongside new girls' head coach Phil O'Keefe. Coach O'Keefe has coached the boys' team for many years and will continue to do so. His teams have had much success in winning section championships, many have advanced to the WPIAL playoffs, and the 2015 squad won the WPIAL championship. That same team also placed second in the state at the PIAA championship. Cara is looking forward to what he will bring to the girls' team.
"I'm very excited to coach with Phil," Cara says. "He has so much experience with volleyball in general, specifically with coaching high school-aged kids. He has figured out the best ways to allow players to gain their own insights into their playing, and provides instruction and feedback. He incorporates many, many reps and its up to the players to respond to those reps in a meaningful way to make improvements."
Cara's own coaching style was formed in part by her natural teaching ability and also from the lessons she learned while sitting out games during her career due to injuries. She says, "Sitting on the bench taught me to be reflective and gave me that 'eye' for coaching. I really began looking deeply at my teammates and analyzing my own play. Now that I'm coaching, of course I try to instill a strong sense of competition, but most of all, I want the players to have fun. I want to help the players gain the love of the sport that I have. It's also an incredible feeling when I give a player feedback and I immediately see them make an adjustment in their next repetition."
Cara's passion for the sport and her excitement at returning to her old home court brought new energy to the girls' program last year. Her unique perspective, combined with the seasoned experience and accomplishments of the new head coach, have created much optimism for the coming years and good reason to believe the program will continue to grow for the future.