Sia Beasley knows what it feels like to go out a winner.
Now finishing up her senior year at Emory University in Atlanta, Georgia, the Fox Chapel Area native is a four-year member of her college women's swim team and recently played a key role in the squad's ninth consecutive win as the NCAA Division III Swimming and Diving National Champions.
At the March 24, 2018, meet, Sia earned honorable mention in the 200 backstroke with a time of 2:03:04. Her personal best time in that event during her collegiate career is 2:01, but her effort at the championship meet did the job to put her team on top once again.
"I went into the meet just wanting to do a good job, have fun, and making it a celebration of hard work," she says. "It was the culmination of many, many years of swimming, so I wanted to take it all in."
Although Sia's career had a great ending – she was a two-time academic All-American and was named an athletic All-American twice – things didn't always go so smoothly for her.
A Rough Start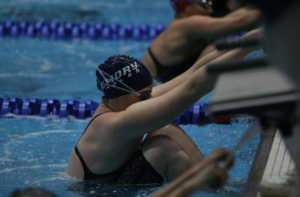 Sia's introduction to competitive swimming was anything but spectacular, and she now recalls it with humor.
"My family belonged to Community Swim Club and when I was about 10 or 11, there was a meet when one of the girls who was supposed to swim was sick," says the medical anthropology major with a laugh. "A family friend said he knew of someone who could fill in, and that was me. I didn't want to do it, and was literally crying and complaining through the whole thing."
It was only later that she decided she actually liked to swim, and a lot of it had to do with the bonds she formed with her teammates, some of whom she still keeps in touch with today. Most of those same girls, and many of her male swimming friends, also swam with her for the local club team, the Killer Whales, and then in high school.
Her success during her four years in high school is impressive – she qualified for states several times, both as an individual swimmer and as part of a relay team, and was named a captain and academic All-American in her senior year.
But even with such a triumphant beginning, Sia's first year at Emory didn't turn out quite as she'd envisioned. She had joined a team that was the reigning national champs and had been so for five consecutive years. The level of competition and the workouts were much different than she had experienced before.
"I was a pretty good swimmer in high school, but when I got to college, everything was very different," Sia explains. "The kind of training they did, including lifting weights, was something I'd never done before. Plus, trying to balance swimming and academics was just a hard adjustment in general, and that affected my swimming."
By her sophomore year, Sia had made the adjustment, was more comfortable in her environment, had made friends, and says, "It made it easier to do well in swimming once I had all of that figured out."
Since then, she has traveled with the team to nationals twice, an honor that may not have come without her perseverance. Adding to the significance of her achievement is the fact that the NCAA only allows 18 athletes from each team to make the trip to the championship. With teams as good as those Emory fields each season, that means some very fine swimmers and divers are left behind each year.
Looking back at her four years of college, Sia has some wisdom to share with student-athletes who aspire to compete at the next level. "My advice to younger athletes going to college is to try to figure out what works best for you and make sure you are always, always, always putting academics first."
Ready to Move On
Now, after more than 11 years of practices, workouts, meets, and competitions, Sia is ready to leave her competitive swimming days behind and move on to her next big undertaking – graduate school.
"I want to get my Ph.D. in medical anthropology," she says. "My particular interest is related to reproductive health and health disparities in rural America as compared to urban areas. I've done research and writing about it for the Emory University School of Public Health, and am excited to continue studying the relationship between humans, society, and culture."
If the past is any indication of the future, Sia' dedication to hard work will certainly lead to success in her chosen field of study – just as it did in her swimming career.