Erin Mathias graduated from Fox Chapel Area High School in 2014 as the Pennsylvania Gatorade Girl's Basketball Player of the Year and as one of the Foxes' most decorated female athletes. Four years later, she is a starter for the 14th-ranked Duke University Women's Basketball Team and having her best season yet.
Now playing in her final season, Erin is one of 20 players selected to the watch list for the Lisa Leslie Award, an honor that recognizes the top female centers in NCAA Division I college basketball. The 6'4" Fox Chapel native was also named one of the most improved players on the team in 2017-18.
"I was pretty surprised to hear about it, but I know what I'm capable of doing and getting that recognition was pretty cool," says Erin, who has appeared in more than 100 career games for Duke since she was a freshman. "I've been putting in a lot of hard work and in prior years got to learn from and play behind some really good post players. As a senior, I see this year as my turn to take on that role and I'm really enjoying it."
Erin's efforts have contributed greatly to the Blue Devil's season, including an important victory over 12th ranked Ohio State when she aggressively shut down some excellent post players.
"I was just playing my game and doing everything I could to help the team," says Erin, who also showcased her dominance with a career-high 24 points in a game earlier this season against the University of North Carolina-Greensboro.
While conference play is just beginning, Erin foresees the group moving on to the ACC and NCAA playoffs. She says, "We have a really good team with a decent amount of experience, so our chances look good as long as we can continue to work hard."
Just as her work ethic has paid off on the court, Erin has applied that same focus to another one of her interests that took a backseat to athletics.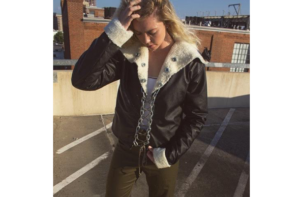 "When I was young I always had this basketball dream, but I also remember being very creative and interested in fashion," says the visual and media studies major and innovation and entrepreneurship certificate program student. "When I was about 10, I'd cut up jeans and make them into denim purses, and I've always had my own look. With basketball always taking up so much time, that passion got put on the back burner for a while, but when I got to college I refound my love of it."
Employing what she defines as an "androgynous industrial, elegant look with inspiration from living in Pittsburgh and Durham," Erin presented a runway show featuring a portfolio of her designs on Duke's campus in the fall. A self-taught sewer, she spent much time over the past two years sketching and designing to bring her visions to life, which have included casual sweaters, dresses, jackets, and slacks. She particularly likes to take simple silhouettes and turn them into unique pieces using a variety of textures, including leather and velvet, and then adorning them with metal embellishments and even spray- and hand-painting techniques.
"I really think my experience with fashion helped in the aspect of my self-confidence in basketball," says the former WPIAL Class AAAA All-State and Pittsburgh Post-Gazette Fab 5 player. "It's helped me to know who I am out there."
Although Erin rarely gets back to the area now, she remembers her playing days at Fox Chapel Area High School as some of the most fun times of her life.
"I built so many friendships and made lifelong friends playing at Fox Chapel Area, especially during my sophomore year when I had to sit on the bench with an injury all season," she says. "I really do miss them so much."
Erin will get at least one more opportunity to reconnect with her old friends when the Blue Devils travel to Pittsburgh to face ACC opponent University of Pittsburgh on January 28 at 2 p.m.
Erin says it's still too early to decide what her future in basketball might include, but she certainly has enough talent to reach new heights in other fields. Perhaps one of those pursuits will place her on yet another watch list, only this time it will be for new, promising trendsetters in fashion design.