Foxes' boys' basketball coach Zach Skrinjar just captured his 100th career win Friday, January 6, in a victory over Norwin High School, 52-44. But when asked about his achievement, you get answers that are more telling about him as a man, not a coach – although the two often are closely intertwined.
"I spent some time reminiscing about how we got to 100 wins and felt a sense of pride and gratitude thinking about all of the players and people who had a part in this," says the coach when recalling his thoughts during the final seconds of the game. "I also was relieved, and I don't mean that in the sense that I felt any pressure, but I really try to focus on one game at a time because that's all you can control. The more people that started to know that I was one win away and were talking about it, the more I didn't want it to be a distraction to the team. So I was glad we got it done, but the most important part of the night was getting another section win."
Now in his eighth season leading the team which, so far this season is living up to its potential to be a WPIAL Class 6A playoff contender, Coach Skrinjar hasn't forgotten the path that led him to this pinnacle in his career. It was a journey that began as a kid when his father brought him along to play in the Catholic Youth League where he coached. His love for the sport and growing skills morphed into a great career at Central Catholic High School, where he played guard and forward, and then later as a point guard and captain at Point Park College.
All of his former coaches, he says, had a big impact on his life and his maturation as a man, and he feels blessed to have a family that still supports him. That family now extends to Fox Chapel Area School District Director of Athletics Michael O'Brien, whom Coach Skrinjar acknowledges took a chance on him when he was still a young coach. Together, he considers that group his all-time best team.
"You don't achieve a milestone alone," says a humbled Coach Skrinjar. "Basketball is and always will be a team sport where one person cannot win by himself. The Fox Chapel Area and the school's administration and staff are truly a great community that has embraced and supported our basketball program, and my assistant coaches do so much for the program that no one ever sees."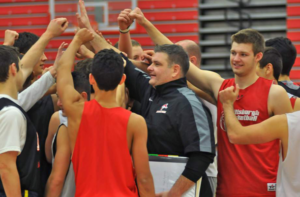 When addressing his individual contributions to the program, Coach Skrinjar is a little more evasive, or maybe it's just the fact that he's very superstitious and doesn't want to jinx the season ahead. "I think it's 99-something," he suggested of his track record at Fox Chapel Area High School before earning his 100th win. "I know we've won more than we've lost."
Actually, his all-time record after Friday's game is 100-69, and in the past five years it's 85-42. Coach Skrinjar hasn't posted a losing season in the last six years, his teams have made the playoffs five out of eight years, and one of his squads advanced to the WPIAL final four. He's also coached two players who scored 1,000-career points, with one setting a new school record. A number of other former players have gone on to enjoy successful basketball careers in college.
The enthusiastic reception Coach Skrinjar got from his current players after the Norwin game suggests they fully appreciate what he has done for the program in the past, and the trust they have in him to reach some very lofty but attainable goals this year.
"They were very excited and there was a lot of clapping, hugging, and congratulating," says Coach Skrinjar with a well-earned smile. "A few of them knew about it before the game and when they presented me with the game ball in the locker room, I got to share a nice moment with each player."
It was a touching display of emotions, especially for a coach who, by his own admission, admits he can be a tough taskmaster. But beneath the gruff exterior, Coach Skrinjar does care deeply for his players and has many cherished memories that have nothing to do with the results on the scoreboard.
"Some of the highlights I remember from over the years are not things that a lot of people see," he says. "What I remember most are the laughs in practices and at the various team camps that we have gone to, watching our players interact in such a positive manner at our basketball camps for younger players, the team meals, and just being around the guys. They all have a very special place in my heart. But I think I'm most gratified when the guys who graduated come back to games or practices, or I receive calls or texts from them after games. The fact that they still care enough to come back and check up on us means the world to me."
Some of those alums might want to consider taking in a game or two in the coming weeks. With their minds focused on a section championship and a deep run in the WPIAL Class 6A playoffs, the Foxes plan on hustling and bringing their trademark grit and determination to each remaining game in the regular season.