Fans haven't see them on the court during the Foxes' varsity basketball team's journey to the WPIAL 6A playoffs and a fifth-place ranking on the WPIAL leaderboard, but the junior varsity players have had a lot to do with the success of the varsity team.
The JV players, who are known as the "scout team," are integrally involved in strategizing with the coaches for every varsity game. Foxes' scout team players are junior Kenyon Weis; sophomores Will Generett, Brendan Kelly, Will Livingston, Matt Mattioli, Shane Susnak, and Brevan Urso; and freshmen Kent Baldauf and Alex Blaylock.
Their contributions come through extra video analysis of opponents' strengths and weaknesses – both teams look at video several times with the coaches – determining what defenses they use most often and are most successful, and pinpointing what the Foxes did or did not do well in previous meetings to correct any deficiencies in strategy or execution.
Then, to simulate real game situations as much as possible, the JV players learn the opposing team's key plays and calls, in addition to their own game plan, and go against the varsity players in practices. Only five JV players are assigned to drill opposite the varsity team, with their selection determined by which players most closely resemble the other team's players' sizes and playing styles.
"In the nine years I've coached the team, we've always had JV do scouting with us, but this year's group has really embraced the task and taken it upon themselves to give us some very in-depth analysis," says Coach Zach Skrinjar. "We really appreciate their efforts, and they don't get nearly enough credit for the important role they play. Their work has had a tremendous impact on our success."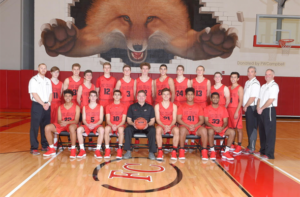 Indeed.
With only a few games left in the season, the Foxes' have been on a seven-game winning streak and have allowed the fewest points among all 23 teams in WPIAL 6A. Senior newcomer surprise Dom McGriff has dominated the post, and Tufts-bound Carson Cohen is among the top scorers in the league. While there is no doubt about their talent as athletes and the team's overall success, they are largely the result of abundant and detailed preparation through scouting.
"Our process starts by watching the whole game with the team and coaches, and then I'll watch it on my own several times," explains Kenyon, who spends roughly four hours a week studying film. "Then, before we start our regular practices, Coach DeVinney will work with us and we'll learn a good number of their (opponents') plays so that when we play with the varsity guys we can counteract defenses and pick up on plays that might have hurt us when we played them before."
Kenyon, a center/guard, who stands as the tallest player on the entire team at 6'4", adds, "Getting to know your opponent is something we take very seriously, and it can really make a difference."
Two of the most vivid examples of great scouting were the impressive recent victories over Penn Hills and Woodland Hills, the first- and second-ranked teams in WPIAL 6A, Section 3. The Foxes had lost to both teams earlier in the season, but at the end of January staged rivalry revenge and handily defeated both.
"We thought we really scouted their plays well and knew the ins and outs of their game," says guard Shane. "When you know what to look out for, it gives you an advantage that can make the difference. Anything we can do to work toward a common goal to win is good."
Matt is a first-year JV player and enjoys the role he and his teammates play in game outcomes.
"It's been really a great experience to see the influence we can have on varsity," says the 6' guard. "The spirit we create through scouting other teams, and seeing a play or a defensive stop that's a result of that, is just really cool."
"The scout team's commitment to prepare the varsity guys is like none I've ever seen in my years of coaching," says assistant coach Sean DeVinney. "It's a great group of kids who, even after their own games are over, will come to us and say, 'their JV ran this play and it's called this,' because most schools use many of the same calls for both teams. They are so pumped up and excited when those plays are called and the varsity is all over it because they knew they were coming."
Coach DeVinney continues, "There is no greater joy to me, as a coach, than hearing our JV players on the bench screaming to our varsity guys about how to defend a play because they have studied film."
"They do a tremendous job," adds Coach Skrinjar, "but don't get credit for the important role they play. All teams scout, but I don't know if they go to the depth we do. What I do know is we might lose a game, but we're always going to be prepared and our scouting is a very big part of it.'"