Fox Chapel Area High School sponsors 10 fall interscholastic sports teams each year, and this season they played a total of 99 section games. Of those competitions, Foxes' teams had 77 wins, which is a great tribute to the dedication, work ethic, and camaraderie the student athletes and their coaches demonstrated in support of their teams and in their quest to reach their goals.
Four teams won their section championships or were co-champions, and girls' tennis and field hockey had perfect play in their sections. Every sports team, or individuals representing those teams, advanced to their WPIAL tournaments or PIAA championships except football, but they had a great year and delivered the program's best season in nearly two decades. In addition, field hockey dominated all season and won a back-to-back WPIAL gold medal. Sophomore Gregor Meyer won the WPIAL Class AAA golf tournament at Oakmont, and Amanda Nord and Charlotte James collected the PIAA Class AAA gold medal in doubles tennis. Finally, senior golfers Anthony Cordaro and Alex Lawson medaled at the PIAA Class AAA individual championship and earned the school's best finish since 1999.

Cross Country
 Girls 7-1 
The runners made school history as the first-ever girls' team to qualify for the PIAA Class AAAA cross country championships. The WPIAL team runner-ups sent the following runners to the statewide meet: juniors Caelan Miller and Megan Stafford, sophomores Anna Folkerts, Sarena Seeger, and Annika Urban, and freshmen Izzy Doerr, Brooke Krally, and Grace Sisson. Sarena finished as one of Pennsylvania's top 20 female cross country runners, up 10 spots from last season. It was Sarena and Annika's second time qualifying for the individual PIAA tournament. Previously at the WPIAL championship races, Annika was the Foxes' top finisher in 9th place and Sarena followed at 10th place. Brooke also medaled. Serena and Annika also medaled early in the season at the PIAA Foundation Invitational that drew the state's top competitors, and, as a team, the girls won two invitationals. All varsity starters will return next year.
Boys 7-1
Senior Adam Cook and freshman Christian Fitch represented Fox Chapel Area High School at the PIAA Class AAAA boys' individual championship. Christian was one of only three WPIAL freshmen who qualified to compete. Earlier in the season at the prestigious PIAA Foundation Invitational, Christian had the top time among all freshmen and now is considered one of the area's best runners in all age groups. Adam ran his best distance race time of his career at the Foundation Invitational.
Field Hockey 12-0 (Section), 16-5 (Total)
The Foxes' field hockey team followed in the footsteps of last year's undefeated squad and finished the regular season with a perfect section record of 12-0. It was the 11th time the program had produced a section championship, six of which have come under the leadership of Coach Jen McCrady. Even better, the girls won their second consecutive WPIAL Class AAA championship – their third in four years – and advanced to the PIAA playoffs.
Staying atop the leader board this season wasn't as easy as the players might have expected, even with three Division I recruits leading the way – senior Meg McCrady, who will play lacrosse at Georgetown University, and juniors Abby Pitcairn, who committed to the University of North Carolina, and Michigan State recruit Paige Ryan. All season, the team counted on top scorers Abby and Paige and the team's other scoring forwards, Megan Botos, a senior, and junior Katie McIlroy, along with midfielders Meg McCrady and junior Mia Jamiolkowski. A superb defense featured juniors Sarah Fownes and Grace Knepshield, sophomores Marissa Hardiman, and Rebecca Klaas, and freshman Isabella Lagazzi. Goalkeeper Marissa allowed only two goals in section play.
Honored with all-WPIAL and all-section awards were Grace, Abby, and Paige. Meg was selected all-section and Sarah was honorable mention.
The team will lose three seniors, but there is a wealth of talent remaining and the upcoming class from Dorseyville Middle School will just add to that depth.
Football 4-4, 5-5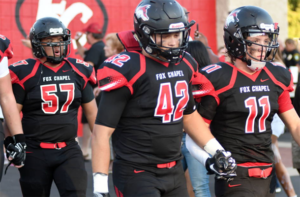 The Foxes easily could be called the come back team of WPIAL football. Although they didn't win their first games of the season, they were competitive in every one of them, including the game against West Allegheny High School, which has since gone on to be ranked as one of Pennsylvania's top teams. However, once the latter half of the season got underway, it was hard to believe it was the same team. They won five consecutive games, finished with the program's best record since 1997, and junior Micah Morris was the school's first 1,000+-yard rusher in at least a decade. Micah also had 13 touchdowns. Junior quarterback Nick Gizzo had an outstanding season with 14 touchdowns and he rushed for nearly 890 yards. As a team, the Foxes scored 51 points in one game, also a program milestone. Both the offensive and defensive lines were strong, and continued to get even stronger as the season progressed.
Last year, only two Foxes were named all-conference, but this season, it was a completely different story with 10 players receiving recognition. Senior Riley Michael and Micah Morris were named first team all-conference, and seniors Jack Brown, Jack Feczko, and Alec Patsko were voted second team all-conference. Seniors Conner Romango, Gary Davis, and Jerett Zaleski were honorable mention, along with juniors Nick Gizzo and Jesse Cohen.
Boys' Golf 11-1, 15-1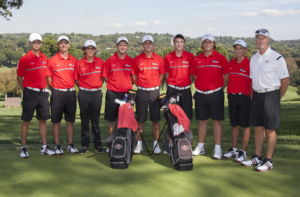 For the 27th time in Fox Chapel Area High School history, the Foxes won the WPIAL Class AAA Section 4 team title. At the WPIAL team championship finale, the team broke the existing scoring record by two shots, so it was very disappointing that they did not come away with a gold medal. In the end, Central Catholic High School beat the Foxes by only one stroke. Fox Chapel Area teams have finished as the WPIAL runner-up three out of the past four years.
Individually, four players advanced to the WPIAL playoffs. Gregor Meyer, a freshman, won the WPIAL individual championship. Gregor and seniors Anthony Cordaro and Alex Lawson advanced to the Western Regional Championship. The two seniors played well and continued on to the PIAA individual championship. There, they tied for sixth place, marking the program's best finish for individual players since 1999. Over the past four years, six Fox Chapel Area golfers have qualified to compete at the PIAA Class AAA individual championships.
Trey Kelly will graduate along with Alex and Anthony, but there are numerous returning lettermen that can lead in 2017, including junior Andrew Friend, sophomores Gregor Meyer and Grant Thiele, and freshmen Scott Bitar and Amani D'ambrosia.
Girls' Golf 4-4, 10-5
The girls' golf team had a good season punctuated by some very competitive matches. But one of the top highlights had to have been when four girls qualified for the WPIAL Class AAA individual championships. Their accomplishments represented the first time in school history that the program advanced so many individual players to postseason competition. The contenders were seniors Ursula Meyer and Kerstin Nestel, and juniors Hannah Conroy and Cara Levicoff. The team will lose Ursula, Kerstin, Ally Robosson and Taylor Thiele to graduation, but the two golfers with the lowest scoring averages – Cara and Hannah – will be back, along with letter earners Toby Lazear, a junior, and sophomores Nicole Garcia and Jessica Paper.
Girls' Soccer 9-1, 16-7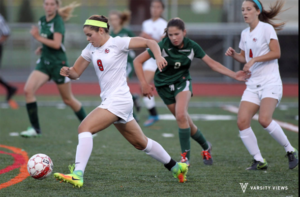 The Lady Foxes didn't get as far into the PIAA playoffs as they thought they could, but nevertheless, it was an outstanding season marked by a near perfect section record. They finished the year as co-section champions and advanced to the WPIAL Class AAAA playoffs. The team progressed to the WPIAL semi-finals before suffering a 1-0 loss to undefeated Norwin High School. Fortunately, the Lady Foxes got another chance to move along to the PIAA playoffs after they beat Mt. Lebanon 1-0 in the WPIAL consolation match. It was the first time since 1999 that a girls' soccer team had advanced to the statewide playoffs. The team played well in the PIAA playoffs, but lost 1- 0 in another match up with Norwin.
Seven players received WPIAL Class AAAA Section 3 first team recognition, including seniors Deena DeBaldo and Dixon Veltri, who also were named all-WPIAL and nominated for all-state honors. Junior Kate Livingston and sophomores Julie Scheffler and Sarah Sinnott also made first team all-section. Seniors Mikayla D'Cunha, Maddie Lucey, and Bryanna Urso were honorable mention. Additionally, third-year coach Peter Torres was selected by his peers as co-section coach of the year.
Boys' Soccer 8-4, 9-9
There were only three seniors on the team this season, which meant the underclassmen had some on-the-job-training that will pay off in the years ahead. Twelve juniors will return, as well as 10 sophomores, and 12 freshmen. Senior Michael Snowball, the team's leading scorer, was chosen first team all-section, as was junior Will Tabor. Snowball was also an all-WPIAL and all-state selection. Second team all-section picks were senior Nathan Wecht and freshman Zane Ingram. Juniors Jacob Dunn, Jake Miller, and David Sullivan were named honorable mention. The Dorseyville Middle School team went 13-1 this season, so there should be good talent joining the squad in 2017.
Girls' Tennis 9-0, 15-5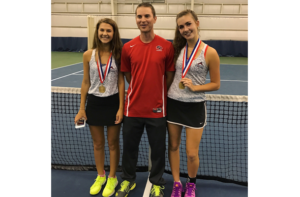 After a perfect regular season record, the team won the WPIAL Class AAA Section 3 championship for the 21st time in school history and placed third at the WPIAL team championship. The girls played well and advanced to the PIAA Class AAA quarterfinals. Individually, junior Amanda Nord won the section 3 individual singles title for the first time and paired with freshman Charlotte James to win the section doubles title. The duo also claimed gold at the WPIAL Class AAA doubles championship. It was Amanda's third time winning the WPIAL doubles championship, but the last two years she did it with Laurel Shymansky, who has since graduated and is playing for Duquesne University. After the WPIAL games, Amanda and Charlotte breezed through the PIAA Class AAA playoffs to become the number one doubles team in Pennsylvania. It was second time in three years that Amanda won the state's most coveted title as a doubles player.
Girls' Volleyball 6-6, 6-11
After an up-and-down season, the team came together and advanced to the WPIAL Class AAAA playoffs. Senior Des Buccigrossi was named to the WPIAL Class AAAA Section 4 first team, and Dom Buccigrossi was named to the second team, along with fellow senior Katie Kenney. Two sophomores, Megan Friday and Jess Michel, made the all-section third team.
The team will lose five seniors, but has an abundance of underclassmen ready to take over, including five juniors, five sophomores, and 10 freshmen. A focus on developing young players from Dorseyville Middle School will continue to be a priority.