When girls' tennis coach Alex Slezak first saw then freshman Charlotte James play at preseason practices last year, he couldn't believe his good fortune.
"Initially, I saw that she had the skill set to excel and do very well," he said of the future doubles' state champion. "As time went on, I also learned she had the work ethic and mindset to match."
That's called a coach's dream, no matter what the sport.
Moving on From Dad's Coaching to Tennis Academy
Charlotte first picked up a racquet when she was about four-years-old. Her father Everette, a former University of North Carolina varsity tennis player, coached her until she began working with tennis professionals at age 11.
Then, when Charlotte was in eighth grade, she made a decision to leave Pittsburgh, her friends, and family to enroll at Smith Stearns Tennis Academy in Hilton Head, S.C. It was a program she had attended in the past on spring breaks, but at this point in her tennis career, she felt the full-time program would help her advance her game to the next level.
"I played about four-to-five hours a day, plus an hour of conditioning," says Charlotte, a straight-A student known for her calmness and focus under pressure. "I loved the academy lifestyle and learned a lot while I was there. It gave me more confidence and a lot of hours under my belt, but after a year I felt I had accomplished what I set out to do, and I really wanted to come back to Fox Chapel. I love it here and we have a very close family. I wanted to be with my sister for her senior year. She ended up leading her team to win the PIAA team golf championship for Shady Side Academy last year."
Prodigious High School Start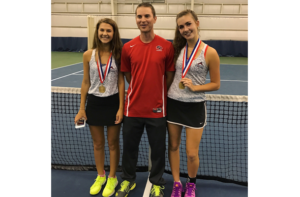 Charlotte's own natural athletic abilities, combined with what she learned in South Carolina, led to a great breakout year when she entered Fox Chapel Area High School as a freshman. Besides capping off the season in grand style by winning the PIAA doubles' title with Amanda Nord, Charlotte lost only one singles' match last year.
"I feel so fortunate to play with Amanda," Charlotte says. "She is a great role model and friend."
This season, the Bob Marley fan, is determined to pick up where she left off last year. She devoted her summer to tennis lessons, conditioning, working out, practicing, and playing in a few tournaments. In June, she won the girls' singles' title in her age group at a United States Tennis Association-sanctioned tournament held in Mt Lebanon.
"This year I would like to make my forehand a bigger weapon and try to win a lot of points off it, especially when paired with my first serve. I also want to work on coming to the net more often and close out points quickly," she says.
Her pregame ritual includes making notes on her goals for each match, but she tries not to get into her own head too much and overthink things. While it's still very early in the season, her strategy seems to be on target. The current sophomore has had impressive wins, including one that helped her team beat Mt. Lebanon, 3-2. Last season they lost to that team by the same score, so good things would appear to be on the horizon.
"It is great to be back with the team," she says. "We have a great group of girls this year. I'm glad we were able to get a win to start off the season. I just want to work on being more aggressive and staying positive so I can help the team again this year."