The girls' golf team is having another banner year and a large part of the reason for that is because of two very talented freshmen, Nina Busch and Erin Drahnak.
These girls, along with a cast of other dedicated players, have earned the WPIAL Class 3A section 4 champions' title and went into October with an undefeated section record of 10-0. They will take that record to the WPIAL team semi finals on October 8.
Coach John Broderick summarizes the momentum of the year like this: "We had a good balance of older and younger girls and great leadership from our senior captains Nicole Garcia-Tunon and Jess Paper. This team really has great chemistry."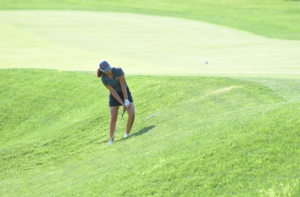 As younger members of the team, Nina and Erin weren't really expecting this level of notoriety in their first year of high school. They will make their first-ever appearance at the WPIAL Class 3A individual finals on October 3 at Diamond Run Golf Course in Sewickley. The lowest seven scores, as long as they are under 100, will progress to the Western Regional finals on October 15 at Tom's Run Golf Course. The top 11 players then move on to the PIAA championship.
"I actually expected both Nina and Erin to advance," says Coach John Broderick. "Both girls are good drivers of the golf ball and have good course management. You can tell they have been playing a long time and have spent their summers sharpening their games."
For Nina, her determination to do well meant a big-time commitment over the summer. She spent about three hours a day, six days a week practicing and playing, and entered some tournaments, among them the Pennsylvania State Women's Golf Association Amateur Championships held at the Fox Chapel Golf Club. She won the amateur second flight. She's also earned the Most Improved Player Award at her golf club for the past two years, and has fared very well in U.S. Kids tournaments.
When the season started, Nina modestly says she didn't know if she'd even play in many matches. But she's done exceedingly well as a freshman and credits part of it due to her golf-oriented family and playing hundreds of rounds with her dad. As the WPIAL event draws close, she is welcoming his thoughts.
"I'm very nervous," says the admitted perfectionist with a laugh, "but I'm trying to take it easy before WPIALs. I'll probably play some with my dad, but most of all I know I just have to stay level-headed. My plan is just to stay calm, focus on every shot, and not get too far ahead of myself."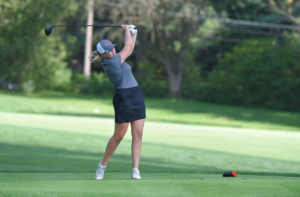 Erin is taking an aggressive approach to her first WPIAL championship experience. She played on the 18-hole Sewickley course for the first time on the Saturday before the finals, and competed in a U.S. Kids tournament near Slippery Rock the same weekend.
"It's a really nice course," she says of the Sewickley site. "It's very hilly, but that doesn't really matter to me."
Erin says her focus after joining the high school team has not been so much one of getting to the individual WPIAL or state championships, but more on achieving personalized objectives and the steps she needed to take to improve.
"My goals were to get par on course and improve my short game. I feel I've very much improved my short game and am very close to par, and I did break 80 this summer on an 18-hole course," says Erin, who was about 10-years-old when people started to notice she had a gift for golf.
Erin also has been active on the tournament circuit. One her most recent first-place wins came at a local U.S. Kids Golf tournament and she's also played in other large youth championships in numerous states and in Canada. Over the summer, she placed third among all 14-year-olds at the 2018 U.S. Kids Golf Canadian invitational, and has played very well at U.S. Kids Teen World tournaments too.
When it comes to the WPIAL finals, however, Erin is taking a rather philosophical attitude for someone who has experienced much success early on.
"I'm just hoping to play my best there, and wherever the cards land, they land."
Whether it's at the 2018 team or individual girls' golf championships, one thing is for sure: the players and Coach Broderick are to be congratulated for a great year that, hopefully, will run even longer.