Nicole Garcia-Tunon and Jessica Paper were strangers before their paths crossed in ninth grade at tryouts for the golf team. Four years later they are not only friends and teammates, but also co-captains who are united in their determination to get the team to the WPIAL and PIAA playoffs again.
First impressions might lead to the belief that the two senior captains are polar opposites. Nicole is a petite 5'2" and Jessica is 5'9", and while Jessica has a reserved personality, Nicole is more outgoing. However, both young women want to make sure the players have a good time while they are working toward their goals for the season. It's a philosophy that Coach John Broderick has instilled in all of his teams during his 25-year tenure leading the girls' program, and one that seems to work well for his squads.
Motivated to Play
"Jessica and Nicole have both put in the time to steadily improve and are similar in the respect that they are good role models because they don't get too excited or too down on the course," says Coach Broderick.
Yet reaching this pinnacle in their golf careers only came after hard work that resulted in steady improvement.
Jessica had been playing golf with her father and brothers for 10 years, but it wasn't until she decided to try out for the team that she started taking her game more seriously.
"Today, I think my strengths probably are my iron shots and my control as far as distance," says the senior, who also plays basketball, but enjoys golfing because of the relaxing feelings she gets on the picturesque, peaceful greens. "I'd like to improve my chipping though and make my game more consistent."
Nicole's path to become the golfer she is today came from her determination to succeed. "I started to take a lot more lessons, practiced more, played with my dad, and with some of the girls on the weekends," says Nicole, who shot a hole-in-one on a driving range when she was about eight-years-old and still has the ball to prove it. "Playing in tournaments also helped me to understand it better. I just love golf season and I definitely have a passion for the game."
Unfortunately, Nicole spent much of this summer in rehab after suffering from a gymnastics injury, but attended all of the team's practices, and managed to work on her swing.
"I was able to tweak my swing recently and it got me really excited to play again," says Nicole, who favors her 7 iron because it has been valuable in getting her out of sand traps and allows her to hit a good straight shot.
What also excites her and Jessica is the opportunity to get to know the younger girls, especially since three freshmen are in the starting lineup.
"I think it's important that they know what to expect," explains Nicole. "I remember when I was a freshman, I didn't know the older players and I'd like to think we can change that."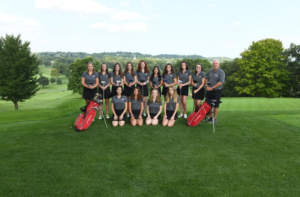 Thinking Ahead
Jessica, Nicole, and Coach Broderick all are confident that having talent on both ends of the grade-level spectrum, plus returning junior Emily Scheffler, will help them get to the playoffs again this year.
"I think we can go pretty far because we have a lot of talent," adds Jessica. "Last year at this point in the season I wasn't even thinking about WPIALs or states. This year we're going into the season thinking about it!"