Katie Livingston was just a toddler when her mother toted her along to watch her cousin play women's soccer at Allegheny College. It was an experience that made a lasting impression.
"I was about three- or four-years-old," says the senior captain who has been a varsity starter since her freshman year, "and a lot of my interest developed just from looking up to my cousin. But the older I got, the more I loved the competitive atmosphere and being around all of my best friends. By the eighth grade, I knew I wanted to play in college."
After that, she began attending all of the high school varsity scrimmages and games when she was still in middle school, and her appetite for learning everything she could was insatiable.
When she was old enough, she also played for several club teams, which, in addition to the high school season, enabled her to play year-round. She currently plays for the elite Beadling Soccer Club.
"Playing for club teams has given me an opportunity to play with some of the best girls in the WPIAL and other great players from around the country when we compete in tournaments," says Katie, a National Honor Society member who would like to eventually earn a Ph.D. and become a chemistry professor. "I think it has helped me get to another level by playing with girls who have similar attitudes and goals about soccer."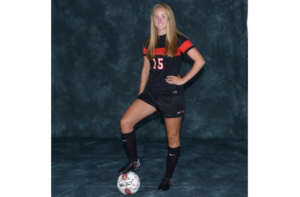 What's also helped her advance in the soccer world is her physical playing style and toughness on the field. Those attributes, plus amazing technical skills, have enabled her to add great value to her team. While she was a rookie, she played a role in the team reaching the WPIAL quarterfinals, and then the semi finals in her sophomore year. Last year, she was a strong weapon in helping the team to a third-place finish in the WPIAL championships and their subsequent appearance at the PIAA qualifier. It was the first time the Lady Foxes had advanced to the state championships since 1993.
This year, the team continues to rely on Kate's savvy as they pursue another section title and a return to the post-season playoffs.
"Katie is a fantastic defender who sees the game very well," says Coach Peter Torres in assessing his player's strengths. "While she is more than capable of holding down the center midfield, we are utilizing her as a center defender in our system. Her ability to tactically defend and provide a strong presence in the air has allowed us to move others into different positions to make us better."
Katie remembers her best game as one in her sophomore year when the team was playing Canon-McMillan in the WPIAL quarterfinals. "On a personal level, I was really happy with my contributions. I was very, very nervous, but once I was on the field I calmed down and I think I played very smart and with good tactical decisions. It was what we needed during that game."
She's hoping to add that special touch in the back end of this season.
"Playoffs are a hard emotional experience," Katie says, who earned all-section and Big 56 all conference honors last year. "To get there this season, we need to be focused and work as hard as we can during practices. We talk a lot about past teams, especially for the benefit of the younger players who haven't experienced a playoff or really hard games before. And, we talk about how we've become better each year, and what we need to do to get where we want in the postseason."
"I cannot say enough about how much I respect Katie and value her time with us," adds Coach Torres. "Besides being a great player, she is a great kid who has shown a desire to lead her teammates and be a bridge between the players and the coaching staff."
Katie hopes her guidance will help lead the team to a deep run in the WPIAL playoffs and another shot at the PIAA title. Last year the team was eliminated in the first round of the state championships.
Then, after her high school career comes to a close, Katie will be off to Denison University in Ohio, where she will be back in the competitive and challenging atmosphere that she loves the most.
"I'm really excited about going there," says Katie. "I love the coach and I compared every other campus I visited to Dension. I know it's the place for me."