A few hours before the first round of the WPIAL Class 4A girls' soccer playoffs – the program's 10th consecutive trip to the postseason – Foxes' junior forward Sarah Sinnott had a few jitters, but more than that, she was dreading a weather forecast that called for steady heavy rain all night. Her trepidation turned out to be justified.
On a night when the Foxes' home-field turf was about as wet as it can get, the team held on for more than 110 minutes that included two overtime periods and a shootout in order to beat Butler, 2-1.
After two scoreless overtime periods, the Section 3 champion Foxes netted four out of five penalty kicks in a tense shootout to finally give them the victory. Senior Katie Livingston, juniors Maura Curry and Sabrina McQuarrie, and sophomore Claudia DeMartino all found the inside of the net.
Abby Pogue, a senior forward/midfielder, was the first to score in a game where the Foxes' strategy was reinforced to account for several opponents who were known to be dangerous through the outside and then often crossed the ball into the goal area.
For Sarah and the other girls who have had playoff experience, their goal was to do as well or better than last year when the team advanced to the first round of the PIAA playoffs for the first time since 1999. She says playing with a chip on their shoulders and having something to prove actually helps them perform better.
"We all know that in the playoffs if we lose one game, we're out, so we go into every game knowing that it's going to be tough and that the intensity will just get higher with every game," says Sarah, who is known for her field vision and excellent technical skills, and is a double threat because she can use both feet equally well. "I think having something to prove gives us motivation to show we have what it takes to win at the highest levels."
As it turned out, in order to win, the team needed to quickly adjust to the evening's conditions. Head Coach Peter Torres says, "The biggest issue in the rain is getting your body behind the ball so it doesn't skip by you. Our defenders and goalie did a great job of keeping the ball in front of them and not allowing a skip ball to get by our lines. Our keeper, Kate Feczko, did a fantastic job of smothering the ball and not giving any rebounds to the opponent."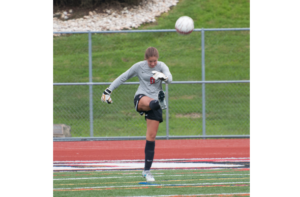 In fact, Kate, a lightening-quick junior who had eight shutouts this season during section matches, was cool and says she believes she was well prepared to handle whatever came her way. "I felt pretty confident. I work on visualization before every game and I think it's helped. Plus, when I work with my goalie coach on the weekend, he just fires ball after ball and that's really helped my response time."
Even so, at the half Coach Torres told the team they needed to do some "cleaning up."
"We needed to create more scoring opportunities and test their goalkeeper," says the coach who's in his fourth year leading the team. "So we encouraged them to take more shots and 'crash' the goal in case the goalkeeper couldn't control a shot and there was a rebound.  Defensively, we discussed our spacing and ensuring that the opposing players didn't get clean shots at the goal. Our center defenders, Katie Livingston and sophomore Sam Dockey did a great job of organizing the back line. Junior Theresa Heidenreich and Sabrina McQuarrie did a great job of containing their outside forwards.  Overall, this was a hard-fought game due to the conditions and going up against a quality opponent."
The girls will have another opportunity to show what they're made of when they play Penn-Trafford in the next round of the playoffs. In a match-up earlier in the season they beat the Warriors 2-1 in a game that might have been the highlight of the year so far. Penn-Trafford upset former number-one-ranked Norwin High School, which has also been rated the top high school girls' soccer team in the country.
"We're playing very strongly right now, but I don't think we've peaked yet," Sarah adds.