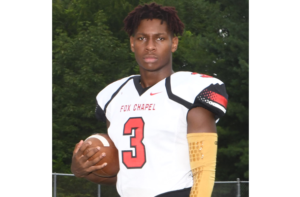 It was an impressive Friday night under the lights when, on October 5, the Foxes' football team put on a show of finesse, power, and unity to defeat WPIAL 5A opponent Connellsville Area High School, 45-15.
The victory came from a concerted effort from the entire team and included important contributions from high-octane player and senior tri-captain Korey Simmons. One of only three returning starters, along with fellow senior captains TJ Johnson and Cole Waxter, Korey had five receptions for 109 yards. Some of that footage came from a 47-yard pass from junior quarterback Shane Susnak. His catch was a demonstration of his natural athleticism as he battled a determined Connellsville defender to get the ball and take it into the end zone. On defense, Korey led the team with nine solo tackles.
Kevin Shields, the Foxes' longtime football statistician, has a bird's-eye view of every game and says of the 47-yard pass: "Shane threw a perfect ball and that reception was a work of art."
Korey's comment about the night was, "The offense, O-line, and defense put out a great effort. The safeties were everywhere making plays, and our freshman corner did a great job filling in for Cole (Waxter, who was injured). Overall, it was just a great physical, solid performance by everyone."
Korey's accomplishments at Connellsville and his dependability all season are only some of the reasons why he has proven to be a great leader and one of the team's best weapons on offense and defense.
Passion for the Game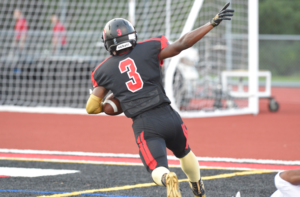 When singling out players, what spectators might notice about Korey is that he plays with a lot of heart and passion. On top of that, head coach Tom Loughran describes him as "very, very athletic, an aggressive player who does a great job of recovering balls, a good technician, and a player with great ball skills."
Putting those skills to work has enabled him to become the team's top receiver so far this season (219 yards) and one of the top-two in all-purpose yards (440). He's also scored twice, and on special teams he's averaging 21.3 yards on kickoff and punt returns. Defensively, Korey has 35 solo tackles and four assists.
Another area he's worked hard to perfect is making clean hits.
"All of my coaches have always taught me to be aggressive and physical without getting penalized," Korey says. "I've placed a lot of effort into keeping myself and others safe while still bringing intensity to my game."
The work ethic that's evident when competes also extends to times when no one is watching. He regularly gets up at 4 a.m. to go to the gym before school, and then often goes back after practice. And that's before cracking the books to keep up his grade point average and keep alive his dream of getting a scholarship to play football in college.
So far, NCAA Division I universities Cornell, Fordham, Georgetown, and Temple have shown interest in him.
"If I have a choice I'd rather play defense in college because that's what I've put most of my time and training into," says Korey, who also played on 412 Elite, a travel football team that competes all over the country and includes some of the nation's top players. "But honestly, I'm comfortable playing both offense and defense and I'll play wherever they want me to."
More than a Football Player
But there is a lot more to this 5'10 defensive back, wide receiver, and special teams player, who also runs track and is a high jumper. He also happens to be a very unique individual off the field too. He scored 1210 on his SATs, has taken all advanced placement and honors courses in his core courses in high school, and has always dreamed about becoming a paleontologist.
"I've known what I wanted to be since I was four-years-old," says the athlete who participated in youth football, baseball, basketball, soccer, and track before settling on just football and track in high school. "I had so many dinosaurs when I was young and my favorite movies and books were about Jurassic Park. When I first started reading, my parents bought me all dinosaur books. My dad never thought I'd stick with it, but I have. I really want to be a research scientist and be out there digging in the field, and I want to get my Ph.D. Eventually, I want have my own company."
Korey already has gotten a head start on his future career. He's attended summer programs offered by some of the country's top colleges in paleontology, archeology, and anthropology, including Yale and Eastern Michigan universities, and the University of Chicago. Next on his wish list is a trip to Utah where many ancient dinosaur bones have been unearthed.
"They have a great dinosaur museum there and it's also the birthplace of my favorite dinosaur, the Utah Raptor," says the National High School Scholar Society member with a slight chuckle. "You can ask anyone; I'm a huge nerd."
Nerd or not, Korey is very honest in his admission that he's a huge momma's boy, and he explains why.
"Maybe this is too personal," he says at first, before continuing, "but my mom is my motivation for everything I do in life. She had a stroke when I was in eighth grade and just seeing how hard she works (on her recovery) makes me want to do my best."
With his mom as incentive to succeed, there's no doubt that Korey will continue to reach new heights as an athlete. But he also seems destined to travel a path that's far away from sports. It's a world where fossils give clues about what the universe was like when dinosaurs inhabited the Earth during the Mesozoic Era, many millions of years before the first modern humans ever existed.