During the first play of the Foxes' first football game last season, then sophomore Sam Brown made a tackle that he won't soon forget.
"When I made the tackle, the intense pain I felt immediately afterward in my shoulder gave me the feeling that my season could be over, but I was still hopeful," Sam recalls. "A few days later I found out that I needed surgery. I was devastated because prior to that game, I had put in a lot of hard work to become the best football player in my class in the WPIAL."
Despite his injury, Sam made the best of the unfortunate situation. He gave moral support to his teammates by attending almost every practice and all of the team's games. While his six-month recovery taxed him both physically and mentally, Sam was elated when he was cleared for full activity six months later, but his excitement was short-lived when he re-injured his shoulder again. This time it had nothing to do with football.
Throughout it all, Sam never once considered giving up the game.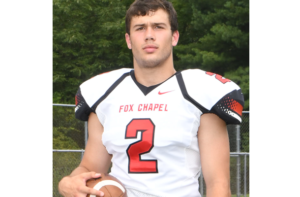 "What I love so much about it is the competition and the hard-nosed spirit you have to have in order to be a good player," Sam explains. "Being the youngest of four brothers [all four Brown siblings played football for the Foxes and two played in college], I think that's where I got my aggressiveness. I just like the brotherhood and the life lessons you learn everyday on how to become a better man."
Although his injury prevented him from doing upper-body weightlifting for months, Sam remained a regular at the team's weight-room training. He was able to keep up his strength by doing some legwork, but spent a lot more time devouring the playbook in preparation for the 2018 season.
His much-anticipated return, this time as a running back, occurred nearly a year after his original injury. While the Foxes dropped their first competition to North Hills on August 31, the game represented an amazing personal victory for Sam and was a true testament of his will and character.
His presence on the field also was a welcome sight for head coach Tom Loughran, who describes Sam as "a fast, strong, strapping kid with good skills and the potential to become a really good player."
Although his technique and body composition differ from 2018 graduate Micah Morris, the program's all-time leading rusher who set a slew of records last season, Coach Loughran sees a similarity in the two.
"Sam definitely also has the ability to make yards after contact," says the coach. "And, like his brothers before him, Sam loves to play the game and is very competitive. He's the kind of kid who not only wants to win, but wants to dominate."
For someone with such an intense desire to succeed, it's only natural that the 6'1" junior has set some lofty goals for himself.
"I think two of my strengths are my speed and power," Sam says. "My goals for the season are to be a team leader who leads by example on and off the field, and I want to be an explosive running back and lead the team in tackles."
Ultimately, Sam hopes to play in college and would love to play safety. But for now, he's just thrilled to be sharing the field with his teammates and contributing to the game.
"I'm not anywhere close to the player that I want to be, but I will be in a few weeks," Sam says. "I'm just ready and excited for the rest of the season."