Four Foxes' distance runners qualified for the 2018 PIAA track championships, twice as many as last year, and one athlete, senior Caelan Miller, achieved personal and school milestones when she advance to the state meet for the fourth time.
"This is the first time, at least the first in my 11 years of coaching track, that we've had anyone – boy or girl – who qualified for states that many times," says Coach Tom Moul of Caelan, who placed third in the 1,600 at the WPIAL finals to advance to the state meet. "That's quite an impressive accomplishment."
Caelan, a Pitt-recruit, also was a member of the Foxes' 2017 state-champion girls' cross country team that won the title for the first time in school history. So were the other two female qualifiers, junior Sarena Seeger and sophomore Grace Sisson. They advanced in the 3,200-meter race with fourth- and third-place finishes, respectively.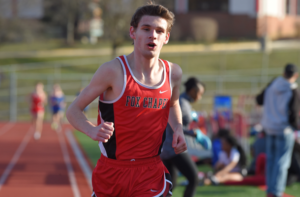 Sophomore Christian Fitch also represented Fox Chapel Area on the WPIAL winner's podium with a third-place time of 9:29.05 in the 3,200-meter event.
Furthermore, both Christian and Grace set personal best times, and Grace broke the school's historic record among all freshmen and sophomores with a time of 11:08.96. Her goal is to shave that down to 11:00 by PIAAs.
"For Grace to go out there and run a personal record at such a big race really speaks to her maturity, both in her mindset and her physical maturity as a runner," comments Coach Moul. "This is also the first time she's running the 3,200. Last year she ran the 1,600."
"I was just trying to stay in that group of top runners and hoping for placement," adds Grace, who has one sister who is an accomplished NCAA Division I runner, and another one who runs professionally for New Balance. "This was the toughest, most competitive race I've been in so far."
For Christian, the chance to run at the state meet is something he has been working toward for a while. He had a breakout freshman year, but says, "This entire season I've definitely become a lot faster. It's just humbling to see that after all of the work I've put in that I've been able to close up the gap between myself and some of the area's top runners. We all run similarly in that we go all out, so it often becomes more of a mental thing when we're competing against each other."
Some of those athletes include Mars and North Allegheny high schools' top runners in the 3,200. They have competed with each other since middle school and are very familiar with each other's strengths and weaknesses. Christian will face them again at the PIAA championships.
"Christian ran a very smart race," Coach Moul says. "He knew what he needed to do and finished very strong. This race had some stiff competition and second, third, and fourth places were all sophomores in this event. In the next two years they will continue to challenge each other."
As for Sarena, Coach Moul says it was a tough race for her and he is proud of the effort she put forth to earn herself a fourth-place finish and a spot at the state meet.
"I don't want this to sound like an excuse because Sarena really ran a great race, but she has terrible allergies and with the season peaking now she's not been able to fully practice," adds Coach Moul. "She didn't feel that well at the WPIAL meet, but she still pushed through and did what she had to do. She also ran a very smart race."
With one more step to go, the coach says things worked out just as he had hoped they would.
"I knew this is what we had the potential to do well, but WPIALs are very competitive, so you never know how things will work out," he says.
The 2018 PIAA track and field championships will be held over Memorial Day weekend at Shippensburg University of Pennsylvania.