Jacob Klein is an excellent student – not only in the classroom, but also on the volleyball court. Just ask his coach, Phil O'Keeffe, who has seen him learn the sport in less than two years and with remarkable speed.
"When Jacob came to the team last year, I put him in as a middle hitter because, as a newcomer with no experience, that's a good place to start to improve your passing, hitting, and blocking," explains Coach O'Keeffe of the 6'5" senior. "He worked really hard and improved so much that I recently switched him to outside hitter, and he has just excelled there. He is helping us out a lot."
"I think part of what helped me to make the transition from middle hitter to outside hitter is that I have a bit of instinct and a natural awareness of things," Jacob says of his new role. "I'm just thankful to have a great coach who has helped me to get to this point."
Jacob's parlay into volleyball came after playing soccer for the Foxes for four years and also baseball during his first two years of high school.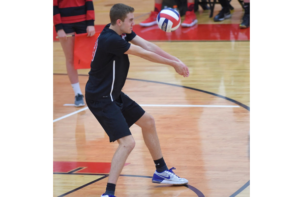 "I think I just got burned out playing baseball since I'd played it since I was six-years-old," says the member of the Fox Chapel Area High School National Honor Society who will attend Rochester Institute of Technology in the fall. "With volleyball, I've fallen in love again with a sport. You can never stop focusing and you always have to be ready to hit. I like the constant movement and the energy, and it feels more team-based than some other sports I've played. Coming to the team last year was the most connected I've ever felt with a group of people. Everyone has each other's backs."
As a captain of the team, Jacob tries his best to instill that same sense of belonging in the younger players, many of whom have shown good promise and are getting a lot of minutes on the court. Not only that, it is Coach O'Keeffe's largest freshmen class in the 16 years he's headed the program.
"I definitely think everyone should be aware of them in the next few years," Jacob says. "I think they'll be really difficult to stop, and I'm real excited to watch them, even though I won't be part of it by then. I really believe the program is right around the corner from being a great team again."
But for now, in addition to the technical skills he brings to the team, Jacob feels a responsibility to help nurture the team of the future.
"I see a lot of passion in the younger players, and that's great," says Jacob. "I just try to bring a positive energy to the team and keep everybody on a certain emotional level – not too high and not too low because that's when you make mistakes."
If Coach O'Keeffe has any regrets about Jacob, it's just the fact that he didn't have him on the team all four years.
"I wish I would have had him since he was a freshman," says the coach, "but I'm glad he's been with us for the past two years. It's been nice to see him do so well and I know he's enjoyed the experience. I've really enjoyed having him on the team."