Field hockey midfielder Isabella Lagazzi had always planned to work hard in the off season after the Foxes won the 2016 WPIAL championship. In fact, her passion for the game and talent had won her a position on an elite club out of Philadelphia where she was continuing to gain experience over the winter months.
But instead of improving her skills during that time, Isabella spent months overcoming a challenging injury that occurred after the family car skidded on black ice and then slammed into a tree.
"We were coming home from a tournament and were only five minutes from home when we crashed," says the 15 year-old sophomore who started for the Foxes last year as a freshman. "My dad was ok, but I fractured my sacrum. I was in a lot of pain and it's taken a long time to overcome it." 
During those weeks when Isabella was unable to do much, she spent a lot of time drawing and editing videos of family trips – two of her other many talents. But getting field hockey-fit was another story and one that required tenacity and resolve beyond her already admirable work ethic.
She explains, "I had to run a lot to get back in condition and I've been working on my core and working on my shooting." It's an ability she'll need to hone since Coach Jen McCrady plans on moving her from defense to the midfield this year.
"Isabella works tirelessly outside of our season and has shown what pushing through pain and discomfort look like while working to get physically back in shape," says Foxes' the field hockey coach. "There is no quit in Isa."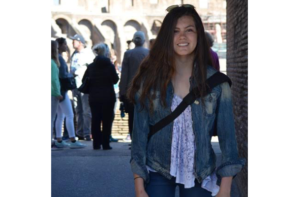 Actually, overcoming challenges is something of which Isabella has some experience. When she was 11-years-old, her family left their native home in Santiago, Chile, to relocate more than 5,100 miles away in Pittsburgh.
The transition to a new life in America was a bit difficult at first, but Isabella says going to a school in Chile where classes were taught in English made the adjustment a little easier. What was harder was leaving behind her extended family and friends. Luckily, the straight-A student found kinship though field hockey, an activity that crosses all cultural barriers.
As Isabella tells the story, she first learned how to play field hockey in first grade physical education class. Starting at such a young age catapulted her to a different level than other girls her age in the Pittsburgh area who were just starting to play.
"Field hockey is really big in Chile, bigger than here," says Isabella, a player with natural talent who is known for her no-nonsense approach at practices and games. "When I came to Pittsburgh, at first I played for a club team, but then two years ago Abby's mom [teammate senior Abby Pitcairn, who is ranked as one of the top-10 high school field hockey players in the country] introduced me to the W.C. Eagles out of Philadelphia. That's where Abby played."
Isabella's contributions to her high school team have also earned her attention.
"I can always count on Isabella to give 110 percent," says Coach McCrady. "She is completely committed to this sport and how she can help the team. Her work ethic, focus, intensity, and love for the game make her a player who leads by example. We'll be counting on her this year to contribute in the midfield and maybe occasionally on defense too."
"We're working hard and trying to keep up the momentum from last year and get things done," Isabella says of her team that begins the season at the top-ranked team in WPIAL Class AAA. "I just want to help out wherever I can."
One thing Isabella won't be doing anymore is playing for the W.E. Eagles this winter. Her father has ruled that out, so she'll just travel to the Philadelphia area for practices and tournaments in the springtime ­– that is, after the snow and sleet have disappeared.