Marissa Hardiman's parents and grandparents have always told her that she's not above doing any job, no matter how small or how often she's done it, and that she needs to pitch in wherever and whenever she's needed.
It's a good thing she learned that lesson early on because as a midfielder on the Foxes' girls' lacrosse team, Marissa, a junior, and the other two midfielders – seniors Margeaux Essey and Lehigh University-bound Kate Goodwin – are called upon to do just that in every minute of every game.
All three have been starters since their freshmen years and serve as team captains this season. Their talents have contributed greatly to the Foxes' continued success. This is the second consecutive year the team has won the section championship and the first time in school history the program has earned back-to-back gold medals.
Meet the Middies
Besides doing their primary jobs in the center to distribute, settle, and win the ball, the players are versatile, possess great field vision, and are adept at quickly traversing the entire field with bursts of speed. Sometimes that means moving up field as attackers when necessary, or dropping back if the defense needs some extra help. Plus, middies run – a lot. And, the position most definitely requires good multitasking, a skill all three players have mastered.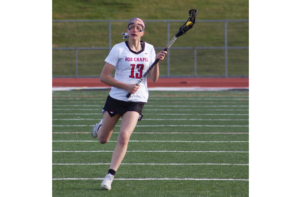 "Marissa is the heart of our team and the unsung hero," says Coach Katie Lundberg of her 5'9" player who also serves as goalie for the Foxes' champion field hockey team. "She is our draw specialist and had the difficult task of taking over for Meg McCrady after she graduated last year. She has done exceptionally well in that role. She always gives 100 percent and, in general, just does the little things that give us big success, but doesn't necessarily show up in the stats column."
So far this season, Marissa has 27 goals and 13 assists for 40 points, 101 draw controls, 22 ground balls, caused 19 turnovers, and had 101 draw controls, something her coach calls a "really big deal."
"I think my height helps a little bit on the draws, but it's more about the technique and your quickness in turning your wrist," says Marissa. "I've spent a lot of time practicing that."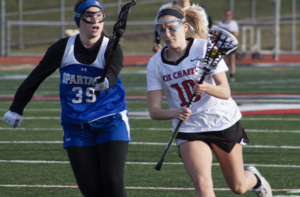 Margeaux admits she first started playing lacrosse as a youngster because it was a way to bond with her father.
"Eventually, I developed a passion for it, " says the all-purpose athlete who has played just about every position on the field. "I love the fast pace of the game, and now as a midfielder, I like being able to move all over the field. As a group, I think Kate, Marissa, and I work really well together. We've played together for a long time and we know how to back each other up."
Margeaux, has contributed 20 points, 17 of which were goals and three came from assists. She also accrued 41 draw controls and 22 ground balls.
"Margeaux is also the kind of player who does whatever you need her to do without question, and that's just awesome," says Coach Lundberg. "One of her best qualities is that she always looks to put others success before her own. She's just a very unselfish, solid player."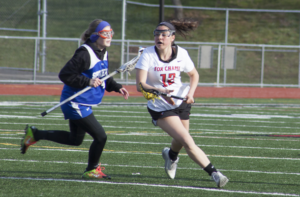 The other member of the trio, Kate, also earns much praise from second-year coach Lundberg.
"Kate has phenomenal skills and athleticism and just keeps getting better and better each year," says the coach, who was a star player herself in high school and then at Duquesne University. "She leads by example, and does whatever it takes to be successful. That rubs off on her teammates and they want to do the same."
Kate leads the team with 109 goals and 16 assists for a total of 120 points. She won 44 draws, had 21 ground balls, and caused 15 turnovers. Last year Kate was named an All-American, and for the past two years was voted all-section and all-WPIAL – honors that most likely will be repeated.
Kate is humble about her role on the team, however, and counters her coach's remarks. "I think all of us have stepped up this year when we were asked to play different roles. As midfielders, I think we have gotten really good about reading each other and recognizing our strengths and weaknesses. Marissa is great on draws and Margeaux is really good at handling the ball. We help each other out."
WPIAL Playoffs and Beyond
"The middies will play a vital role in the playoffs due to their athleticism, skill, and leadership," Coach Lundberg says. "We will look to them, as always, to set the tone both offensively and defensively moving into our next big games."
The girls are quick to acknowledge their coach's role in the program's success and their own individual growth as players.
"Coach Lundberg is really good at pulling people together and pairing them so that their strengths are highlighted," explains Marissa. "She helps us to see that every game is just as important as the next. She is very active and dynamic with our team and leads by example. Sometimes she even works out with us and it makes us motivated to do well for her. Her knowledge and wisdom have made all of us better players."
Kate echoes Marissa's thoughts on their coach and also adds what she believes they all must do to win gold for their coach and themselves.
"The big thing for us to win the WPIAL championship is to be the best competitors we can be at practices and games, and live up to our normal standard of what we know we can do," she says. "I see my responsibility in that goal as pushing everyone to their full potential and helping to set the pace of the game."
"We just have to keep working hard and recognize that our success comes when we're playing for each other," Marissa says.
As her family so wisely pointed out, that success will come as every player contributes to the greater good, no matter how small or insignificant the task may seem at the time.