Gregor Meyer was destined to be a golfer, thanks in large part to his father.
A successful golfer himself, Gregor's dad, also known as Gregor, is the owner of Pine Creek Golf Course in Allison Park and encouraged his son's eventual award-winning participation in the sport when young Gregor was still a toddler.
Today, the high school junior is not only the number one player on the Foxes' golf team, he's also a former WPIAL champion and has qualified for the October 16, 2017, PIAA individual regional playoffs in Blairsville, Pennsylvania.
"I remember going to the beach and hitting balls from the sand while my father caught them in the ocean," says Gregor. "My father is a really great player so growing up watching him and learning from him has been really cool. He still coaches me."
Currently, Gregor also travels to Dallas, Texas, three times a year for expert coaching. There, he trains with Cameron McCormick, PGA pro player Jordan Speith's personal coach. He's been doing it for about a year now and says, "My accuracy, putting, and short game have all improved tremendously and also just the little things that can make your game better."
Gregor also has done well in some prestigious invitationals including the U.S. Kids World Golf Championship, the PGA Amateur Golf Tournament, and the Junior Ryder Cup.
"Gregor's game was great last year, but it's even better this season as he's matured and gotten bigger and stronger, plus he's just a lot more knowledgeable," says his high school coach Bryan Deal. "In the last five matches at the Pittsburgh Field Club he finished 16 under par. He has unlimited potential and is capable of beating anyone in the state on any given day.
"I played at Tom's Run last year in regionals and shot an 82, but didn't make the cutoff by one or two shots," says Gregor, who considers himself a scratch player. "I know the course now and I know I can play better this year if I just continue to practice my game."
"Gregor just needs to be Gregor and remain the same steady player he's been for the past two years," offers Coach Deal, who has led his teams to five section championships and three WPIAL team runner-up titles. Two of his players also won WPIAL individual championships.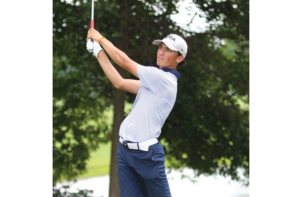 Hoping for that same kind of success is sophomore Amani D'Ambrosio, the WPIAL alternate for the PIAA playoffs.
While Gregor has a long history of success on the links, Amani,15, only picked up a club four years ago while on a vacation in Arizona. He decided to try the sport and shadowed a college player for a while to learn the game. After that, he taught himself the basics and only this year starting working with a golf pro from Oakmont Country Club. Now, he plays in five or six tournaments a year and went to Florida last winter to continue to hone his game.
"This is Amani's first year on the varsity team and he has really grown in his game," says his Foxes' coach.
In fact, earlier in the season, Amani surprised everyone when he shot a hole-in-one. But it's not his first; he also scored one while playing on his own.
"There's no secret to it, just luck," he says modestly. "Actually the year's been up and down for me, but I'm pretty happy with it. I need to work on being more consistent."
A lot of people have recognized Amani's natural talent, and with his dedication to hard work and improving his game, his future looks bright.
For a coach, there's no better position to be in than leading a group of kids who are self-driven and have a passion and commitment to what they're doing.
"This is the most exciting part of our season as the kids advance through the individual tournaments and the WPIAL team championship playoffs. We have high expectations," Coach Deal says. "It's a privilege to coach Gregor and Amani and the rest of the team as well."