As a newly appointed captain of the Foxes' 43-member boys' soccer team, Alex Marotte hopes to provide the positive leadership and motivation that will help the squad thrive in what could be their most challenging regular season in many years.
He says the team anticipated the change and began preparing for the rigors of the new Class 4A alignment last spring when, as a team, they decided to work out with the school's strength and conditioning coaches for the first time. The players continued the program throughout the summer and into the preseason.
It's not that the program hasn't faced some of their new regular season opponents in the past – Pine-Richland, North Allegheny, and Seneca Valley to name a few – but they typically faced them after they had qualified for the WPIAL and PIAA playoffs.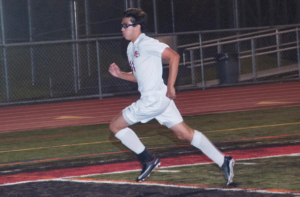 "We looked very strong in our scrimmage against Upper St. Clair and I was very impressed with how well we played so early in the season," says 5'10" Alex, an insightful and outgoing player. "Even though we lost 1-0, we are very prepared for the season."
Alex continues, "I think if we can clean up small mistakes before the season starts, we will, without a doubt, go far in the playoffs."
With a ramped up schedule, Coach Erik Ingram is expecting big things from his center forward and left wing and thinks Alex will contribute a great deal because he is "very fast and technically gifted with a great desire to score."
Alex is modest about his talents on the field, although he says he has an objective to score at least 15 goals this season. Instead, he'd rather talk about what else he brings to the team.
"I'd like to think I'm good at motivating people, and I believe I'm good at studying the tone of the game," says Alex, an all-section player who picked up the game when he was five-years-old. "Most importantly, I want to be able to keep up the morale if things aren't going as planned, especially toward the end of the game when everyone is tired and we need to keeping pushing to finish with a positive result.
"Especially this year, I think the players have really shown a willingness to work together as a team and our chemistry is really good. It's important to have your teammates become your brothers because it makes a difference on the field in terms of speed of play and overall morale. As a captain, I want to be part of an effort that helps everyone reach a common goal."
When Alex isn't on the soccer field, he often can be found helping out in another way with the school's Best Buddies program. The popular student-run club pairs students with and without disabilities to create an inclusive school environment and it also encourages friendships outside of the classroom.
"We meet once a week as a club and I help organize a lot of their events," says Alex, who plans on majoring in business in college next year. "We have Halloween and Christmas parties, a dance that's like a prom, and we do just small things after school. I really like the program because everyone deserves to be included."
Whether it's through his activities with Best Buddies, or in soccer, Alex's aspirations for teamwork and inclusion might just be the key to a great senior season for him and his teammates. He says, "Some of our biggest strengths are that we're close and how well we know each other," Alex adds.
That should go a long way toward achieving their goals. After all, the best teams are always those whose players look out for each other and are willing to sacrifice personal glory for collective success.