Graham Childs, an all-section 6'2" defender and midfielder for the Foxes' boys' lacrosse team, is having one heck of a year. Only a junior, he was unanimously voted a captain by his teammates, is one the best players in the league, and already has locked in his dream to play NCAA Division I lacrosse.
"I was playing in a tournament in Philadelphia with 365 LAX, a club team from New York, but I didn't realize any college recruiters were there," he recalls about the weekend when the Hofstra University coach first saw him play.
NCAA rules prohibit contact with underclassmen until September 1 of each year – the first day college coaches can approach a junior and show serious interest in them – so Graham was shocked when, seemingly out of the blue, the Hofstra coach called him on that first day and expressed his interest.
"It was very exciting and a total surprise," says Graham, a master at ball fakes and toe drag dodges, skills that are rather unusual for a defender. "I was drawn to Hofstra because it's on Long Island and it's really near New York City, the team is ranked in the top-20 among all NCAA Division I schools, and they are known for their defense."
Concentrating on the Here and Now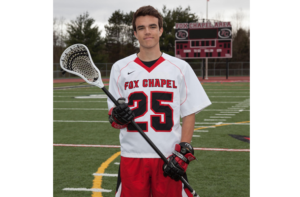 While he certainly has a bright future ahead of him, right now Graham's priority is to help lead his Foxes' team to the playoffs. So far this season, Graham leads the team with five takeaways and 12 groundballs, and also has contributed five goals on offense.
"Our team is very good with the potential to be great if we stay focused," says the captain, who recently scored a hat trick on his birthday and came into the season having won 65 ground balls last year and scoring four goals.
"What Hofstra saw in Graham is what we see in him everyday, and that's his athleticism, ability, and knowledge of the game," says Foxes' head coach Kevin Devinney of the three-year varsity starter. "I can always rely on Graham to matchup with our opponents' best players. He plays with the confidence that he can take on any attack man in the league."
Graham has honed his technical skills to the point where his coach adds, "Graham definitely has a unique skill set on the field and makes plays that only he is capable of, especially for a defenseman. He'll sometimes throw a fake pass in a game and leave his defender clueless to the fact that he still has the ball, to the point that it's comical to watch. He plays outstanding individual defense and also contributes to the offense as well."
Leadership Process
Graham's confidence on the field has been a large reason for the team's hot start this season, but becoming a strong leader was was more of a learned process, not something that came naturally.
"I think everything kind of clicked when I was voted a captain this year," he says. "I consider that a great honor and I take my leadership role seriously, not only when good things happen, but when we make mistakes."
A Family Tradition
"My uncle was big into lacrosse," says Graham, who was introduced to the sport in second grade. "He's from Loveland, Ohio, and they have one of the biggest lacrosse programs in the country, so he was a large influence."
Nine years later, Graham is taking that familial love of the game full circle by helping the coaching staff of his younger brother's U12 Pittsburgh Youth Lacrosse (PYLAX) club team.
Despite what Graham has achieved in a short amount of time, and all that he's given back to the game, he doesn't believe he's experienced his best days yet.
"At first I thought I might say my hat trick was the highlight of my high school career so far, but honestly, it wasn't," he says. "I haven't had my biggest highlight; it's still to come."
When that day does arrive, it will be a real treat for the hometown crowd to experience it along with him.