Not rain, or mud, or the sudden blast of chilly weather could stop senior all-state runner Sarena Seeger from getting a second-place finish and a personal best time on September 8 at the annual Red, White, & Blue Classic. She ran the 3.1-mile course, along with 230 other WPIAL Class AAA girls, in 18:59.28 seconds.
Her time, and those of juniors Grace Sisson – who placed 5th and also set a personal record at 19:20.21 – and Brooke Krally (12th, 19:51.15), and senior Annika Urban (16th, 20:04.28), contributed to the reigning state champions' second-place team finish.
Junior Christian Fitch, one of the most promising runners in the WPIAL since he was a freshman, finished at the top end of boys' group in third place with a time of 15.47.
"Christian ran a very solid race and ran smart and strong," says Coach Moul. "A Mt. Lebanon runner was ahead of him for most of the race, but Christian had a strong kick and beat him at the end."
"My kick used to be my weakest trait, but now I think it's one of my best," says Christian, who qualified individually for the cross country and track PIAA championships last year. "I was absolutely pleased with how things worked out and I'm confident I can shave off more time as the season goes on and we get into more intense workouts."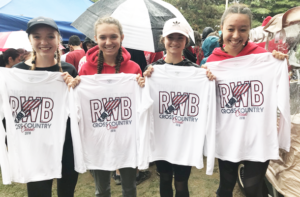 "Conditions at the meet were a little muddy, but we actually like to run in the rain," Sarena says. "I felt a lot more prepared, this year and I think it's because we've been doing more conditioning exercises and core training. It also helps that I run with a group of girls who are some of the best in the state. We are our best competition when it comes to training and sticking together at meets."
Coach Tom Moul adds, "Sarena was really behind by maybe 30 meters with less than a mile to go, but she caught up and passed the eventual third-place runner in a pretty impressive performance. And Grace was 13th last year with Brooke 24th, so to see the improvement in their places was exciting. All of the girls ran really well in adverse conditions."
Grace says she finished pretty much where she figured she would and attributes her improvement to doing small adjustments that are within her control.
"Coach Moul is always talking about doing little things on a daily basis that can make a difference, like eating healthier and getting more sleep," says Grace, who also was a PIAA qualifier last year in indoor and outdoor track. "I've been trying to do that because it's something I can control."
Grace's personal goal is stay with the lead pack, finish in the top-five during the season, and then the top-10 at WPIALs and the state meet.
Some newcomers also had notable performances and give reason for optimism in the coming years. Freshman Ethan Napolitan placed 10th among all freshman boys, while fellow freshmen Riley McIntyre was 7th and Gabrielle Kline was 12th among all girls in their age group.
The Red, White, & Blue Classic always draws some of the region's top runners. Sarena, Christian, and Grace were designated as elite performers prior to the event. This year there were more than 500 runners competing in just the WPIAL Class AAA division, including 28 girls' teams and 32 boys' squads.
But on September 22, the runners will face even tougher competition when they travel to Hershey for the annual PIAA Foundation Cross Country Invitational, the largest cross country event in the state. The course is the same one that's used for the PIAA championships.
Last year, Christian ran the course at the Foundation invitational in 16.45 seconds, but is shooting for the low teens, or even the 16-minute mark. He says he's already 20-to-30 seconds quicker than he was in the 2007 cross country season.
Grace adds, "I'm definitely excited to get out there with the best girls. I really like that course, even though part of it is by a sewage plant and it doesn't smell very good!"