On a late October perfect, crisp day in Slippery Rock, Pennsylvania, the members of each of the Foxes' cross country teams vied to get prime starting positions in the WPIAL championships. As separate groups, they took their marks and began the climb up the first hill of the WPIAL AAA championship course, which had been slightly altered from years' past.
By the end of the day, the girls' team had traversed the course well enough to secure a back-to-back trip to the state finals as the WPIAL runner-up, and two individual runners had emerged from a group of 240 total runners with times fast enough to move on to the PIAA championship as well.
Impressively, every member of the girls' team ­– senior Caelan Miller; juniors Sarena Seeger and Annika Urban; and sophomores Brooke Krally and Grace Sisson – had personal best times for the course, as did the two individual boys' runners who qualified for states, junior Ian Brown and sophomore Christian Fitch.
Caelan led the girls' team as she has all season with a time of 18:50 and finished fourth overall. Annika followed in sixth-place with a time of 19:11, and Sarena had a time of 19:24 and placed eighth. Brooke and Grace also moved on as part of the award-winning team, as did junior Anna Folkerts and sophomore Isabelle Doerr.
"Caelan has been unbelievably focused, especially this year," says Coach Tom Moul. "She wanted to be our number one runner and one of the best in the WPIAL and she has worked incredibly hard to achieve her goal. I will use her as an example for a very long time as to what can be done through determination and perseverance."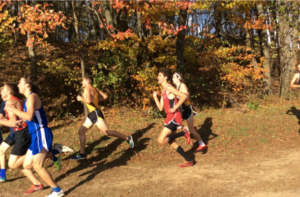 For the boys, Christian captured 10th-place with a time of 16:25, nearly a minute better than his time last year as a freshman, and Ian surprised a lot of people, including himself, when he made the cut for states with a time of by 17:03.
Although the boys' team did not advance to the state championship, they did place fifth and Coach Tom Moul was pleased with their performance.
"I felt the boys performed to their potential," the coach said after the race. "Christian was Christian, meaning he has proven himself to be a very tough competitor and at this juncture has much more potential to really take off in the next two years if he continues to train hard. Ian had the race of his life and far outreached what most people thought he could do. He always said that getting to states was his goal and through much hard work he has gotten there. I believe Ian is one of the most improved runners in the entire WPIAL."
Obviously, Coach Moul was happy with the girls' silver medal, but admitted everyone was disappointed after finally unseating rival Oakland Catholic to win the section championship. Visions of gold had been on their minds since the beginning of the season.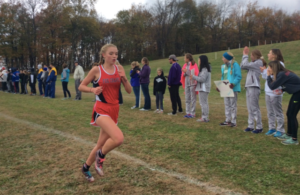 Annika, who was voted by the team this season as "most inspirational," said they all thought winning the WPIAL title was very doable, and still believe the same thing about the state title, which will be determined November 4 in Hershey, Pennsylvania. The girls have an 11 a.m. start and the boys' begin at 1:15 p.m.
Coach Moul credits the girls for not getting down after having their hearts set on earning the gold medal. "They are just a great group of good-natured girls and are very even-keeled," he says.
"Our team is special in that we don't let any one course get to us," agrees Annika, a three-time state-qualifier in both cross country and track. "Just knowing that we have the ability to beat Oakland Catholic and the fact that we only lost by four points to Manheim [Township High School] in the Foundation Classic motivates us and makes us want it even more. I definitely think we can do it; it's what we've been working toward since last summer when we started training right after school let out."
For most of the season, the girls' team has seesawed with Manheim as the number one- and two-ranked teams in the state.
By all accounts, both Coach Moul and his runners rank the Hershey course as the most difficult one they face all year.
"It's an intense course," explains the coach. "There are more short, steep hills and turns, and it funnels quicker. If you want to be in a good position at the start of the race, you really have to get out there fast and more quickly than other courses."
If the runners feel any trepidation about their ability to manage the problematic course, it isn't showing.
"We train hills all the time and know how to run them," Annika says. "If you know how to do that, and if we do all the little things Coach Moul has taught us, it will give us an advantage and separate us from the others."
She continues, "We're just really excited to prove what we've been working on is possible. When Serena and I were freshmen, we were the only ones to make states and as we looked around we said to each other, 'Imagine how great it would be to have our entire team here.' And now we're here. I really give all of the credit to Coach Moul. He's pushed us to be our best and go beyond what we ever thought was possible."
That high praise is echoed by her teammates and goes to show there's an abundance of people associated with Fox Chapel Area cross country who are equally as worthy of the most inspirational designation. It's a contagious positivity that they truly believe can turn those long-held dreams of gold into reality.