When Vernon Yenick took over the diving teams at Fox Chapel Area High School in 2008, he only had one person on the boys' team. Today, things are worlds away from that inauspicious start.
There are eight boys on the team this season, making it the largest or one of the largest in the WPIAL, and five divers have already qualified for the WPIAL championships that will be held in late February.
Among them is junior Jonah Cagley, a three-time WPIAL qualifier and the reigning WPIAL AAA champion. Jonah also is a two-time state qualifier who placed third at the PIAA championships last year. Another junior, Magnus Loeffler, also is a three-peat WPIAL AAA qualifier.
Jonah is viewed as one of the favorites to win the PIAA AAA championship, as the two divers who placed ahead of him last season graduated. In preparation for another shot at the gold, he began working on several new higher-difficulty dives in the off season.
Sophomore Nathaniel Serkov and freshmen David Manelis and Aidan Ireland, who qualified for WPIALs in his very first high school meet, also will move on to the post-season.
"We have such a talented group," says Jonah, who placed 14th at the USA Diving Nationals over the summer. "David is extremely talented and we push each other. He is incredibly good for a freshman and we're alike in the way that we're both laid back and like to have fun, but are very focused on doing well when we are competing. By his senior year he's going to be so good!"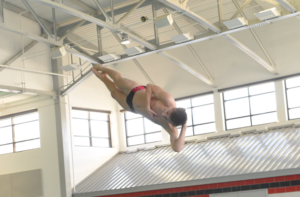 Coach Yenick describes Nathaniel as an extremely strong diver who has the ability to perform quick flips and high jumps, while Magnus is able to get into tight, fast tucks. The coach cites newcomer Aidan as having a great work ethic that has helped him develop quickly, and predicts it won't be too much longer before he gives the top divers a challenge.
Other divers who have contributed to the tight-knit group's success are sophomores Tyler Radigan, Thayer Russ, and Ameya Velankar. Coach Yenick notes, "They are learning so rapidly that I'm already putting them in meets, even though they would still be considered beginners."
Some coaches would say that team depth is a great "problem" to have, yet for the diving team, it's also created some challenges.
"The team is so gifted that it's been very difficult to get all of the divers in at the meets because only three can compete at dual meets," explains the Foxes' coach. "I've had to rotate the line-up to give some of the younger, promising kids some experience and practice."
One reason why the coach says there has been such an abundance of newcomers is due to the new pool.
"Everyone is still excited about it, and I think that's drawn some kids to the program over the past two years," he says. "It really is the best pool in the WPIAL and the diving boards are fantastic. I've also had a lot of luck getting kids to join the team because of my past involvement with the Pitt Aquatic Club."
Top diver Jonah adds, "Coach Yenick is the common denominator in all of our success. He is a really good coach, especially when it comes to the small details that can make a big difference. He's also extremely approachable and that's a really good trait because people might not normally join the team if we didn't have someone with his personality."
It's Coach Yenick, however, who thinks he's the lucky one. "I am very blessed to have such an extraordinary group of young adults. But what I'm most excited about is their growth and maturity as good human beings."
Simply put, this diving team is special, and anyone who has the good fortune of watching them in action is in for a great exhibition of artistic beauty and athleticism.