Following his undefeated regular season and winning the WPIAL Class AAA Section 3 title for the third consecutive year, Robby Shymansky recently won the WPIAL boys' singles tennis championship 6-3, 6-4 facing off against Connor Bruce from Peters Township. It was the first time in 43 years that a player from Fox Chapel Area won the gold medal.
Robby has advanced to every state championship since he was a freshman, and obviously has been a huge factor in the team's three consecutive section and WPIAL gold medals. What's more, he has been ranked as Pennsylvania's number one recruit in the junior class and is nationally ranked on the junior tennis cicruit. It isn't hard to see why colleges coaches were interested in him early on and saw great potential in his game.
With a résumé as impressive as that, you would think that one of those distinctions would be the highlight of this hard-working player's life so far. You would be wrong if you made that assumption.
That accomplishment, says Robby, is reserved for the day he signed with Yale University, where he will combine his gift for tennis along with an academic program that suits his intelligence.
"My goal for a long time has been to use my tennis to help me get into a challenging school and have the opportunity to pay for a great tennis program," says Robby, who is considering a career in medicine. "So when I committed, it was pretty special, and a huge relief. I think that was when I was the most happy with myself."
"Robby is one of the fiercest competitors I have ever met," says his high school coach Alex Slezak. "He's a counter-puncher, meaning he plays a more defensive style of tennis. Robby takes out his opponents' legs with his fitness, beats their heads with wise shot selection, and then breaks their hearts with his competitive spirit."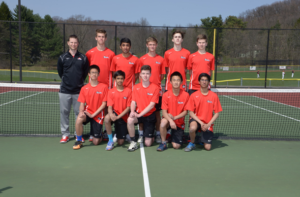 But Robby insist he doesn't like to take away from the importance of the entire team, and says winning both the PIAA individual and team titles would rank right up there with getting accepted into Yale. The PIAA team tournament begins May 15 and Robby will compete in the individual state championships over Memorial Day weekend.
"I think winning states would be special because it's not so much about me as it is the school and the program," he says modestly. "Winning states as a team would mean the most – just to be able to share that feeling with a great group of guys would be special."
In fact, Robby is much more comfortable talking about the team effort rather than the personal success he hopes to achieve. When members of the media ask Coach Slezak to reach out to his phenom to get interviews, he claims that Robby's reaction is usually the same: "This isn't just the 'Robby Shymansky Show'. We have a lot of good players on our team and our success is the result of all of our efforts."
"Jared (Nord) handles volleys really well and Jay (Kashyap) has a good and very smooth and consistent stroke," Robby says. "Kurran (Singh) is a very smart player. I think our greatest strength as a team is that we work well together and we all want to win."
Kurran, a senior captain who cites his backhand as his top strength, has played doubles all four years and is very confident of the team's chances of winning a state title.
"I think we're all playing at our peak levels right now," he says. "We just need to maintain our focus and do what we've been doing in practice all year to get to this point in the season. We all feel like this is our year, so we're putting in all we've got."
Robby is very familiar with the strengths and weaknesses of the many players he and his team will face at the PIAA championships. He's well-prepared for what's ahead for him and the team.
"I've known a lot of the guys since we were younger and started playing with the USTA, so there's no huge surprises," he says. "I just definitely have to train hard going into it and make sure I'm well prepared for some tough matches. You can't always control what's on and off with your game, so the most important thing is that I'm prepared mentally because how you compete is something you can control. Especially the way I play, I have to take the court every match with good energy and focus.
Those kinds of sentiments prompt Coach Slezak to say, "Robby is a pretty special kid. He's a reserved young man, but his desire for tennis excellence is phenomenal and he has the ability to support his aspirations."
"Over the past year, I've spent a lot of time in the gym," says Robby. "I've gotten a lot stronger than I was last year and am more comfortable playing in hot weather. I know I'm also playing a lot more offensively than before. Winning states will definitely be tough, but as a team, we make it further and further each year. If everyone in the lineup stays healthy, we'll continue to be very good and have a good shot at winning states."