Up until a year or two ago, runner Brooke Krally's first passion was dance. After all, it's something she's been doing since she was a fidgety two-year-old.
In the ensuing years, she perfected her craft well enough to become a soloist when she travels with her dance academy to competitions throughout Pennsylvania and Ohio. In fact, last year when Brooke was a contestant in the Pennsylvania National America Miss pageant, it was her sizzling tap- dance that wowed the judges and earned her first place in the talent portion of the contest ­– and then contributed to her eventual selection as a finalist.
But there's one thing the vivacious sophomore wants to make clear. "I'm no pageant girl!" she exclaims. "It was awesome to participate in the pageant and it was a good experience because it took me out of my comfort zone, but I definitely consider myself more of an athlete. That was a one-time thing."
Clearly, Brooke's fleet feet have served her well on the stage, but she's also earning recognition in the running world too. According to Tom Moul, her Foxes' cross country and track coach, Brooke was born with natural talent, and it's a gift she doesn't take for granted.
"Brooke is very dedicated, no matter what she does," says Moul, who expects big things from his sophomore runner after she qualified for the cross country state championship last season. "She also is very tough and this goes for how she practices and how she competes. In a race, her toughness really shows down the stretch, near the end of a race, where she's able to bear down and finish very strongly. She is also very disciplined and coachable and follows the training plans to a T. And, maybe most important, Brooke really loves to run. It would be very difficult to have success as a distance runner if she didn't."
"When I came to the high school, the coaches believed in me and I never gave up," she says, but also is quick to give credit to her teammates who inspire her to work harder. "I love all of these girls like sisters."
Although the cross country season has just begun, Brooke if off to a good start. She's shaved a decent amount of time off of her times from last year when she qualified for the WPIAL championship. There, she finished 14th and advanced to the PIAA championship, something Coach Tom Moul says was a great accomplishment for someone so young.
The family-oriented runner who volunteers at her church adds, "I had the race of my career at the WPIAL cross country meet last year. Qualifying for states definitely was huge for me and I'm really determined to do it again this year and place higher."
Brooke's efforts also contributed to the team as a whole. In 2016, they made school history when the group qualified for the PIAA championship. They were also the WPIAL AAA runner-up, the program's best-ever finish.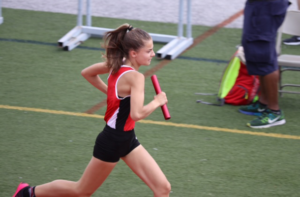 In track, Brooke also enjoyed a good year. She was a WPIAL qualifier in the 3,200-meter race and was a member of the 4 x 800 relay team that qualified for WPIALs.
During track season, Brooke also travels with her dance company. "Many days I go from school practices to dance practices," she says. "Luckily we don't' usually have meets on Saturdays and our dance competitions are on the weekends.
Then after a very long day, she studies to maintain her honors-level status.
What if the day comes when she needs to choose one passion over the other? Brooke, whose maturity belies her 15 years, has already figured that out.
"It's a completely different mindset," Brooke explains. "But I would choose sports slightly over dance because I love the competitive atmosphere when competing in a race. I get an adrenaline rush like no other. And since I plan on running in college, that would make the choice easier."
Luckily for Coach Moul and her teammates, they'll be able to look forward to Brooke's enthusiasm and contributions in the coming years. But, you can be sure her dance shoes won't ever be too far out of reach.