After a personal best throw of 104 feet, sophomore Yezmeyn Chaudhry qualified to represent the Foxes in the discus event at the 2018 WPIAL Track and Field Championships.
It was an accomplishment that she'd been shooting for since she first joined the track and field team in seventh grade and developed a passion for throwing, and especially for the discus.
"At the last-chance meet at Pine-Richland, I got my personal-best distance," says the thrower who was a big scorer for the team this season with 20 points. "I knew that put me on the qualifiers list, but it wasn't final. My friends actually texted me the next day and said, 'Look at the list!' and when I saw it, I was ecstatic and really excited."
Her distance goal for the championships is 115 feet, and she says, "That distance would make me very happy."
"Yez is a great kid who has improved all season, and she's peaking at just the right time," says field coach Scott Karavlan. "She's only a sophomore, but going forward she's going to be a leader on the team and, hopefully, a WPIAL champ."
Two of the team's other statistical leaders, junior Eras Yager and freshman Jing McCann, were very close to making the final cut too, but last-minute results from other schools took them out of the running.
Eras and Jing both are multisport athletes whose experiences on other teams enable them to compare the demands and challenges presented by different activities.
Eras, a 6' 1" leftie, also excels in volleyball and plays the violin. She is captain of the close-knit group and scored 15 points during the season. She advanced to the state championships in the shot-put during indoor track over the winter and says, "I still consider myself more of a work in progress. The most challenging thing for me in throwing is to get down the technique. It's not just about going out there and throwing something. Coaches Karavlan and (Mark) Shemanski have been great in teaching me what to do."
Coach Karavian explains that while being vertically gifted does help, there's much more to being a great thrower than that.
"While being tall helps, strength and great balance are essential," says the coach. "The distance an implement travels depends upon the angle of the launch, the initial speed, and the height from which it is launched. The first two elements depend upon technique and the third is determined by the athlete's build. A thrower such as Eras throwing along the same parabola as a shorter athlete will throw further since her flight path starts higher and reaches the ground later."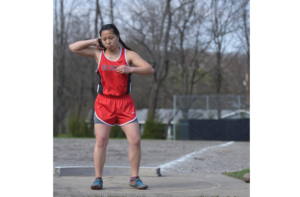 Jing is a high academic achiever, as are Yezmeyn and Eras, and a natural athlete. In addition to throwing, she plays recreational basketball, soccer, and softball. She tied Yezmeyn in points scored and, at one time in the season, qualified for WPIALs in all three events. She is a real go-getter who likes the uniqueness and mental challenge of the of the sport, and also the fact that it isn't something everyone wants to do, or is able to do well.
"When you tell people you are on the track team, they immediately assume you are a runner and forget about the field events," says Jing, who favors the javelin and shot- put events. "At first I thought I wanted to be a sprinter, but then I really wanted to try throwing. I like how the events are located in a different area than the track events, because it allows me to feel like I'm my own person."
Coach Karavlan calls Jing "the most dedicated thrower I have coached in my 16 years with the program." And there's no doubt when speaking with Jing that she is a girl with a purpose and that she's in it to win it.
"I think I was born to be a thrower," says Jing. "I really want to perfect what I do, and I think because of my work ethic I can really get better. My goals might seem out of reach now, but I know I'll get there. I'm always thinking, 'How can I get better?' and 'What I need to do to get there?' When I want something, I go after it and will do what it takes to get it. I'm the only one who decides my fate, so I try not to let anything stop me from achieving my goals."
Jing is very methodical when it comes to attaining her objectives. She has someone videotape her performances at meets because, "It's a good way for me to see where and when things go wrong so I can correct them and get better."
"Throwers are a small community of athletes and we truly want each other to do well," Eras adds. "In my experience, you don't find that in a lot of other sports. Everyone on our team is very dedicated and we all cheer for each other. I think it's something more girls should consider trying because it's really a lot of fun and it's such a supportive environment."
"Throwers are really a special group because they are dedicated to a sport that doesn't get much attention, and not many people appreciate how difficult it is," says Coach Karavlan. "We've got some great kids and while the season might have ended for them this year, they are the future of our program, and the future looks great!"