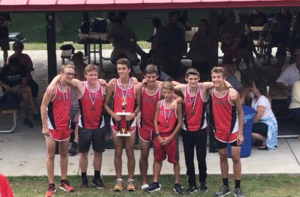 The girls' and boys' cross country teams got the new season off to a great start with their first-place wins on September 1 at the Gateway Invitational at Boyce Park.
There were 17 schools at the annual event, with 100 runners participating in each varsity race.
This year's win was a three-peat for the girls' team. Under Tom Moul's coaching, the boys also have won three first-place titles, beginning in 2013, then in 2016, and now again this year.
Senior Sarena Seeger finished first and was followed by junior Grace Sisson, who placed third. Senior Annika Urban took fifth place, junior Brooke Krally was seventh, and senior Anna Folkerts finished 25th.
Junior Christian Fitch led all boys' runners in first place, which bettered his second-place finish from last year. Senior Ian Brown was 12th, sophomore Shane Funk placed 14th, senior Avery Bursick finished 15th, and sophomore Ryan Kenyon was 17th.