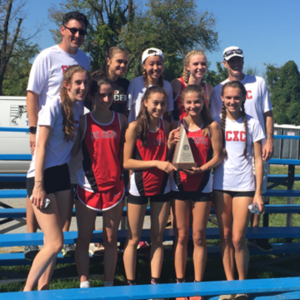 The Foxes' cross country teams did well over the weekend at the Foundation Invitational in Hershey, Pennsylvania. Runners representing 50 schools from across the state competed in the event.
Fox Chapel Area had four runners on the medal stand and the girls' team had an impressive second-place finish.
"Caelan led the way as she has all season, and Sarena seems to own that course," says Coach Tom Moul. "The best races of Serena's cross country career have been there."
For the boys, senior Jonathan Folkerts and sophomore Christian Fitch also medaled. Christian finished in 11th place and Jonathan had a 17th-place finish.
"I was very pleased with our performances at Foundation. The weather was brutally hot and sunny, which especially affected the boys' race since it was later in the day. Christian and John ran very well," Coach Moul says. "Getting to the medal stand at such a big and competitive meet is an outstanding feat. The girls' team continues to impress me. Placing second at Foundation is quite an accomplishment, as the top eight- ranked teams in the state were there."