When your defense allows only one yard rushing during the entire game, your quarterback tops the WPIAL single-game leaderboard for rushing, and your star running back adds another 100 yards carrying the ball, that's about as perfect of a game as you can get – even for Tom Loughran, who has seen just about everything in his 42 years of coaching football.
"I've had some games over the course of my career that have been close to that, but certainly none have been this dominant," says Coach Loughran about the Foxes 42-6 landslide victory against host Moon Township High School on Friday, September 29. "The boys followed our game plan to the 'T.'"
The coaches knew the team was playing really well in pressuring the Cole Konieczka, the Moon Township High School quarterback, and that had been the plan all week when preparing for the game.
"We wanted to make them one dimensional, and we did it by shutting down their ground game" he adds. "Our defensive coaches – Shane Billings, John Moritz, Bob Sprior, and Mark Shemanski – did a great job in preparing the guys for the game and the boys did a great job executing our plan and by not making many mistakes."
In particular, Coach Loughran cited defensive players, seniors Scott Hastings, Riley Michael, and Adam Woo, for their efforts. The trio forced two fumbles and countless hurries.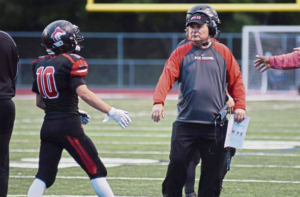 Regarding the offense, the coach adds, "We tried to build options into our scheme so teams can't focus on one aspect. Nick Gizzo and Micah Morris both ran the ball very well. When Moon tried to take Micah out of the equation, Nick kept the ball and had several great runs. Micah ran really hard and did a great job running the option part of the game. We were a duel threat on offense and that's what we want to continue to do on a consistent basis."
While the coaches had sought to have a more balanced offensive attack this year by upping the passing game, Coach Loughran says, "We wanted to throw a little more, but we stuck with what was working. We weren't about to change it when we were doing so well."
Even so, the coach says they are not where they wanted to be at this point in the season, especially with two losses in the last 30 seconds of two games. In those cases, it's difficult for the guys to come back emotionally and Coach Loughran is very matter-of-fact in his post-game assessment when he speaks to the team.
"It's basically a talk about accepting the fact that we lost, understanding why, and asking 'what's the deal' after making it through 48 minutes and then not finishing," he says. "Against Woodland Hills, it was us that won in the last minutes. We know we have a good team and have the capabilities to win. We just need to be consistent and do it time and time again if they want to make the WPIAL playoffs."
That fate will be determined in the Foxes' remaining four games. Next up on their schedule is this Friday's homecoming game against Hampton and another against Baldwin. The team will travel to Chartiers Valley High School on October 20, and will finish the regular season at Plum High School on October 27.