Anyone who has a keen eye and attends Fox Chapel Area High School Boys' Basketball games may notice that when players' names are called during the starting lineup introductions, Carson Cohen sneaks in, literally on the heels of teammate Dom McGriff. He says he doesn't want the extra attention as the last player called.
But once he's on the court for tip-off, there's no way to miss him because the point guard morphs into a huge menace for opponents.
"Carson has the ability to beat you in different ways," says Coach Zach Skrinjar, who has taken his teams to the WPIAL playoffs six out of the nine years he's headed the program.. "He can use his dribble to get to the hoop, he has great pull up mid range jumper, and he can shoot the three."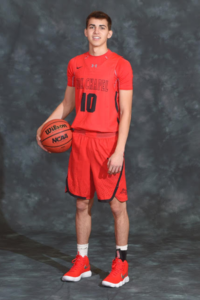 Unlike many other star athletes who say their parents or relatives put a ball in their hands the minute they could walk and taught them the game, Carson's story is more of a tribute to the youth sports system and his natural athleticism.
"I pretty much just played youth basketball and learned the basics from my coaches," he says of his early years. "As I got older and more into the game, I worked with higher-level trainers and played AAU ball."
Whatever he did worked. He has a reputation as being a complete player – offensively, defensively, and on rebounds – and it earned him a 2017-2018 preseason nod as a TribLive Player to Watch. He is the playoff-bound Foxes' leading scorer this year and also last year when he was a junior, leads on assists, and averages about 20 points a game. He's also the fourth leading scorer in all of WPIAL Class 6A, was just voted to the WPIAL Big 56 First Team, is a two-year team captain, and a Tufts University recruit.
That's a lot of accolades, even for a natural athlete. And he probably could have earned dual awards had he stuck with soccer too. He was a starter for the Foxes as a freshman and sophomore and contributed to the 2015 team that won the WPIAL silver medal and advanced to the state playoffs. But, he gave it up to concentrate on basketball.
"It wasn't really a hard decision because I knew wanted to play basketball in college, and I think I was still playing soccer just because I was pretty good and not because I liked it any more," says Carson, who is making his third appearance at the WPIAL 6A boys' basketball playoffs. "I just really love basketball and the speed of it, and it's always fun to play."
Of course winning makes anything more enjoyable and it's something the team has seen plenty of this season. Carson attributes their success to unselfish play and having a well-rounded team, both of which are big reasons why the team had a nine-game winning streak during the second half of the season and drew a bye in the first round of the WPIAL Class 6A playoffs.
"None of us really cares who scores," he says. "We just want to win."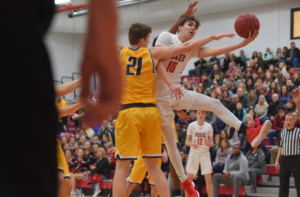 It also helps when you have a captain who has great court vision and is calm and collected when things aren't going so well. Those characteristics were just some of what Tufts recruiters noticed in Carson last summer when they watched him play in an AAU game.
"They said they loved my ability to be a floor general as the point guard and lead my team," Carson says when recalling what the Tufts coaches told him. "They also said they were very impressed with my passing ability."
While there's no doubt about the value of Carson's contributions on the court, he's also making an impact in the community. The 4.0 honors student volunteers with Friendship Circle and, each week, spends time with special needs children.
Even though he shies away from the limelight, when Carson graduates from Fox Chapel Area High School in June, his collective actions will leave behind a great legacy as both a player and a human being.
"I've seen Carson grow and mature into a leader who cares about his teammates and coaches," says Coach Skrinjar. "He is excellent with the younger players and always is a camp favorite. He's just a very genuine person… what you see is what you get, and that's a great trait for a young man to have."
Carson will help lead the team when they face Pine-Richland in the quarterfinals of the WPIAL Class 6A playoffs on Saturday, February 24 at noon at North Hills HS.