Before the 2017-2018 basketball season began, head coach Zach Skrinjar told a reporter, "We will be undersized and inexperienced at the varsity level."
Even so, when the preseason rankings came out, the Foxes' were ranked third among all WPIAL Class 6A teams, largely based on their status as the reigning Section 3 champs, three solid returners, and Coach Skrinjar and his staff's reputation for getting their teams to the playoffs.
Now, with the regular season over, the Foxes find themselves in that same spot and with a first-round bye going into the playoffs.
It might seem as though the coach's words of caution were unfounded, especially after 6'3" senior Dom McGriff surprised everyone by joining the team and added another boost of offensive power, and they got off to a great start. But Coach Skrinjar's assessment did end up ringing true midseason when the Foxes' faced some tough opponents and dropped three out of four games.
Coach Skrinjar, who was named the WPIAL 6A Section 3 Coach of the Year last season, says those games served as a necessary wake-up call. So did their recent loss ­­– after a nine-game winning streak – to non-section foe and the WPIAL's top-ranked team, Central Catholic, in the final regular season game.
No Excuses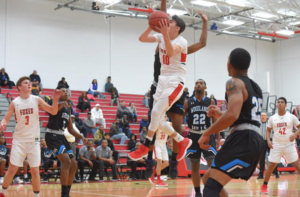 "We could attribute those earlier losses to Ben Kelly being out for two games and Carson Cohen missing a game, and then Dom was sick the last game, but you never know how things would have turned out, even if they were playing," says the head coach. "What it did was present us with adversity that we had to overcome and served as a motivating factor for revenge."
"I knew I needed to pick up my own game, and that the team needed to as well," senior Carson said after the first set of losses. "After that we went on what we called our 'redemption tour' and became really focused on beating those teams the second time we played them. And we did. I think that was the most fun I've had all year."
Senior Micah Morris, a 6'2 guard, recalls the Penn-Trafford game in particular. "We were up a lot at halftime, but lost to them by one point," he says. "We have to be sure we don't get big heads, especially when we're leading."
Getting Results
Getting in front of the game hasn't been a big issue since then. The team went 17-5 overall, and 11-3 in section play. They enjoyed a nine-game winning streak before the Central Catholic loss, but even though they came up on the short end, the team played admirably and with great heart, and was tied or ahead for much of the game, until the final quarter.
Besides that, the Foxes can claim bragging rights for allowing the second fewest points in 6A, thanks in large part to solid, aggressive defense from Micah and junior Noah Marks. The offense has an impressive 60 percent success rate for shots inside the paint and makes 40 percent from the three-point-range. Ben, a junior, has had a lot to do with their three-point-success this season, with 63 on record.
Carson is the team's leading scorer, has the most assists, and is the fourth highest scorer in all of Class 6A with an average of 20.4 points a game. Dom is also one of the WPIAL's top scorers, has brought fans to their feet many times during the season with his alley-oops, and his great vertical leap has resulted in some impressive dunking. He has the most rebounds on the team and has eight double-doubles.
A Role For Each Player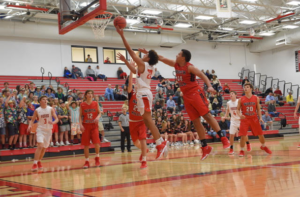 "This team has really grown and is self-motivated as a group, perhaps more than any other we've had," says Coach Skrinjar. "Each player has matured and knows his role."
The coach explains, "Carson is a very competitive player and has provided great leadership. He's at his very best when he's challenged and that will be of great benefit in the playoffs. Micah leads through his actions and his defensive game is one reason why the team is having so much success. Dom is just unique in every way. It's his whole game and presence, plus the fact that he's left-handed. He came to the team with no expectations; he just came and played. He's very unselfish with the ball, but we're encouraging him to shoot even more. Ben is what every coach wants to see; he is very solid and dependable, and Noah has a keen nose for the ball and adds grit and toughness to the team."
The Foxes are now playing some of the best ball in the WPIAL. The players attribute it to unselfishness and having great camaraderie, and admit that it can actually help to have a bit of a chip of their shoulders after painful defeats.
"The Central loss was disappointing, but was also a good test versus a playoff team," Coach Skrinjar says. "That game will help prepare us for playoff situations and competition."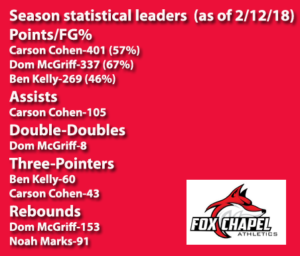 Micah, the Foxes' first team all-conference running back who set rushing records the past two years, has faced challenges with his football team as well, and has much experience winning and losing games by large and slim margins. At every halftime, he tells his basketball teammates, "We've been here before," as a pep talk to help everyone remain calm in the face of adversity and as reminder of how good they can be.
Those words of reassurance will come in very handy during a Class 6A playoff season that's been tagged as very unusual because of the balance among all teams.
"We're just very excited to get started," adds Coach Skrinjar. "This group is special and it's a fun energy to be around.
The Foxes' first game will be Saturday, February 24 versus Pine-Richland at noon at North Hills HS.