After a two-year absence, the Foxes' baseball team is once again on the WPIAL Class 5A playoff schedule. It's a credit to first-year coach Jim Hastings and his entire team, and also to player Ryan Wagner, who has contributed a tremendous amount to earn the group's return to the postseason.
You might also say that Ryan, a junior, is back in the swing of things too; he had to take a lot of time off last year due to injuries. But through hard work, he's bounced back and is making up for lost time with a great season. While his primary position is at second base, he also plays shortstop very well and even steps in as a relief pitcher when needed.
"Coming back was really hard, but I worked out at the gym four times a week and just was really focused on what I was doing," says Ryan. "Now, I just try to be the best player and teammate that I can be."
Those fellow teammates have fondly nicknamed him "Ice" – slang for diamonds.
"It's kind of a crazy thing!" he jokes. "I just really like wearing jewelry and I wear a lot of it in the locker room."
Regardless of his love of bling, his teammates and his coach like what he's doing for the team.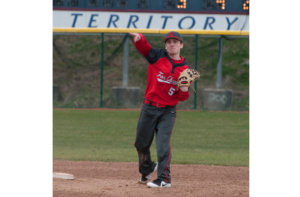 "Ryan is the kind of person who leads by example," says Coach Hastings. "He is having a really good year. His primary position is second base, but he has played catcher and shortstop, and is a pitcher for us too."
The player's versatility and talent are backed up by his stats. Ryan is batting a .305, and is second on the team with hits and doubles. He's also scored the most runs.
Ryan's progression to the player he is today began many years ago when he was just five years old and first learned how to play. Later, he tried other sports, including   basketball and lacrosse, but in his heart, baseball was always his favorite.
"It's the best thing I've ever done," says the athlete who aspires to play in college. "There is a lot of mental preparation and I like that, and also just the challenge of the competition."
His says his biggest test on the field is to stay calm if the situation isn't going as planned.
"Usually I don't worry about things too much, but if I've made a mistake or if the team isn't doing well, I can get frustrated," says Ryan, who also has been on a travel team for four years and plays in games around the tri-state area. "So, I'll think about it and figure out ways to get better, and after that I try to change what I can in the moment, and then not think about it after that."
Something that's definitely on Ryan's mind now is the playoff season. This is only the fifth time in school history that the baseball team has made the playoffs and they have had little success in getting past the first round.
"We all have to come together and stay positive," he says. "For myself, I need to play hard and keep going on every play, even if I make an error. Besides being a good teammate, I'd like to be the best player on the field – that's my goal."