Sarah Sheerer has proven herself to be an exciting three-point player on the court and is the leading scorer on the Foxes' girls' basketball team this year. Although there are only a few remaining games before Sarah wraps up her competitive career, she has not stopped trying to improve, and has two additional goals she wants to fulfill before the season ends – drive to the hoop more often and nail more shots in the paint.
Her coach, Jenn O'Shea, says some of the 5'8" player's greatest strengths are her positive attitude and that she always puts the team first. The fact that she also is extremely focused on refining her game might be a genetic mentality. Sarah's father once was a very successful basketball player for Fox Chapel Area High School, and many of her cousins also excelled at the game.
"Sarah is one of those great kids who has gotten better because she practices a lot and works hard," Coach O'Shea says. "Because of that, she has really improved on defense this season and has become one of our top rebounders."
Sarah actually has been honing her skills since she was a toddler and her dad put a basketball in her hands and showed her how to "shoot" into a Fisher-Price® toy hoop.
"If you don't play basketball in my family, it's an oddity," says the National Honor Society student who plans on majoring in communications with an emphasis on public relations at a yet-to-be-determined college. "I grew up playing with my cousins and father, and it was a big bonding experience. My dad still a big part of my basketball career and gives me a lot of good advice about asserting my leadership, along with the other captains. He reminds me to stay positive, which is basically the same thing my coaches say too."
Sarah's leadership abilities and contagious team spirit have been very important in keeping the team upbeat as they've struggled through a difficult year and an extremely tough schedule in WPIAL Class 6A.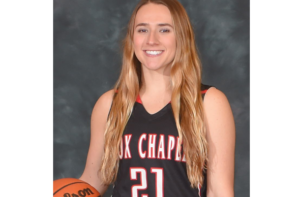 "We're a very unselfish team and we just need to play at our full potential and take those extra steps to help us win," Sarah says. "A lot of games this year have been so close, but we fell short in the end."
If Sarah is having an off night, she's figured out how to compensate in other ways. "For example, in the game again Penn Hills, I didn't shoot as well as I wanted, but I know when I get into a bit of a rut, I can make up for it on defense by getting good plays and passes. Instead of getting upset about missing those shots, I just try to focus on remaining confident and tell myself that I'll be fine."
Her passion for and knowledge of the game will be sorely missed when the team closes the season on February 9 against Gateway High School.
"When I think about playing my last game, it's just very weird," Sarah says. "I've always had a basketball in my hand and my world has revolved around basketball for so many years. I'll really miss my teammates, the challenge of competition, and even performing in front of our community."
Beyond that, Sarah says she'll take with her many learning experiences. "I think one of the biggest things I learned is how to stay determined in hard situations."
At least one person predicts that Sarah is destined to eventually teach those lessons and more to a new generation.
"Sarah is always one of the favorites at our youth camps and clinics," notes Coach O'Shea. "She is good working with little kids and they all respond really well to what she is teaching them. I think Sarah may be a coach some day!"
Given the fact that a passion for basketball is in Sarah's genes, that's not hard to imagine.