Wonho Kang admits he's drawn to adrenalin-pumping activities, and that's exactly what he feels when he's running the 4 x 100 relay, the 200-meter dash, and especially when he's airborne in the long jump – his favorite event.
"Whenever I jump off the board, I get really explosive and feel as though I'm just gliding through the air," says the senior and two-year captain of the boys' team. "It's a real 'wow' feeling."
It's also happens to be something Wonho does well. According to head coach Tom Moul, "He is a good, solid, multifaceted athlete. We're looking forward to him making some big performances at WPIALs, as well as some at the track and field invitationals."
Wonho Kang was a WPIAL qualifier in the long jump as a sophomore and last year he advanced to WPIALs in the 4 x 100 relay in track, but says, "This year I'm definitely working toward making it to the finals, setting a lot of personal records, and just having a good season."
Those goals are possible through a lot of hard work.
"Coach [Tim] McLister would make us do drills that really help us with take off where we would do long jumps over hurdles," Wonho explains of how he developed his skills and technique in the long jump. "We would also practice our landings where we would jump onto the high jump mat so we could get used to landing on our butts."
A good jumper, he adds, also must be able to jump high during take off and be a good sprinter ­– in other words, fast and explosive. It appears as though his preparation has paid off because Wonho is off to a great start this season.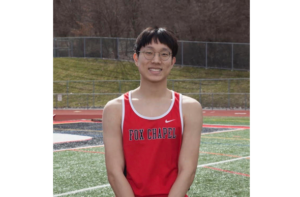 The Fox Chapel Area High School National Honor Society president and cello soloist with the high school orchestra just set a new personal best score in the long jump. It had been raining most of the day and conditions were less than ideal, but Wonho knows something about adaptation.
Born in South Korea, he has adjusted to American culture two different times. Once was when his family relocated to the states for several years when he was two-years-old, and then again in eighth grade. When they returned to Pittsburgh in 2013, Wonho thought that joining the middle school team would be a good way to fast-track some friendships.
Since then, his outgoing personality has earned him a wide circle of friends, and his peers like and respect him so much that they have elected Wonho to leadership positions in both athletics and academics. Wonho has some very fond recollections of those friendships and the years he's spent on the track and field team.
"One that comes to mind was just hanging around with the other long jumpers, especially when I was a sophomore and junior," he says. "We named ourselves the Hop Squad.
"Something else I'll really miss are our bus sessions after a meet or invitational. We play music and all of us sing along. It's really fun and it unifies us as a team."
Wonho, who will major in electrical and computer engineering at Carnegie Mellon University in the fall, is contemplating trying out for the college's men's track and field team. He's hoping that what served him well on many different levels will once again be a springboard to new friendships and opportunities.
But if that doesn't work out, Wonho might have to find another way to get his adrenaline rushes.
"I'd like to try skydiving some day!" he says with a laugh.