The Fox Chapel Area indoor track program has grown over the past few years, but one thing was missing – it was a club sport, not a school-sponsored interscholastic athletic program.
This year, the team got that much-anticipated stamp of approval. On Saturday, January 14, they made their official debut at an area-wide meet at Edinboro University, where a number of athletes quickly qualified for the Tri-State Track Coaches Association (TSTCA) meet, the precursor to the state championship
"I'm very excited to have an official program," says Coach Tom Moul. "We've been competing since 2008, but now that we're official, I hope to improve our overall performances. We've had at least one runner go to the state indoor championship each year."
A unique process
Qualifying for the Pennsylvania Track and Field Coaches Association (PTFCA) state championship follows a different course than other interscholastic sports. There are only three regular season meets, followed by the TSTCA event. It is similar to the WPIAL championship because in order to participate, athletes must have qualifying times. Only the top echelon advances to the state championship.
"It's more difficult to qualify for the PTFCA indoor track championship than in outdoors," explains Coach Moul. "All athletes compete at the same level, so it's one big mix, regardless of school size and student population."
Since enhanced performance was one of Coach Moul's top priorities this season, he was more than pleased when nearly 100 percent of his athletes improved their times and/or distances in a very short amount of time. He says the girls are especially tough and continue to impress him with their hard-nosed work ethic.
"Caelan Miller and Grace Sisson each improved their mile times by almost 10 seconds in just one week," reports Coach Moul. "That's pretty impressive."
Positivity goes a long way
Caelan, a junior, runs track in the winter and spring, and does cross country in the fall. She currently puts in more than 30 miles a week training, all outdoors, and will build up to 40 miles by the time the outdoor season begins in March. She's a TSTCA-qualifier this season in the 800-meters and the mile. Although her natural talent and athleticism are clearly evident, Caelan is one of the hardest-working and determined members of the team, but credits much of her success to her coach.
"Coach Moul is really invested in his runners and does everything he can to help you prepare," says Caelan, who has high hopes of running in college. "He knows I want to run at the next level and is really positive and supportive of my goals."
Junior sprinter and field athlete Ben Kronman, also a TSTCA-qualifier this season, adds, "I view Coach Moul and the other coaches as role models. They teach me in a way that's extremely easy to understand. One of the things I've learned is to use a different strategy as far as how I pace myself, depending upon whether it's indoor or outdoor track. I pace my kick at a different point in indoors because the shorter track means more laps and curves."
Thanks to a superior coaching staff, nearly half of the 30-member indoor roster have qualified for the TSTCA meet, with opportunity still remaining for others to join them.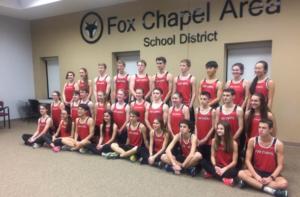 Girls' qualifiers
Junior Caelan Miller: mile, 800-meters
Sophomores Sarena Seeger and Annika Urban: 3,000-meters
Juniors Margaret Edgecombe, Caelan Miller, and Megan Stafford, sophomores Anna Folkerts, Serena Seeger, Annika Urban, and Ziya Xu, and freshmen Brooke Krally and Grace Sisson all qualified and will run in either the 4 x 800 relay or the distance medley
Boys' qualifiers
Junior Andrew Jeffrey: 60-meter dash (broke school record), 200-meter
Senior Adam Cook, sophomore Ian Brown, and freshman Christian Fitch will compete as part of the 4 x 800 relay team
Junior Ben Kronman: long jump
"I'm excited about the possibilities for this team," comments Coach Moul. "Plus, for many of the kids this experience is a springboard to outdoor track and puts them on a higher level going into the spring season. Most of all, I'm just happy to be working with a good group of kids who are hard-working and respectful."
The TSTCA championship will be held at Edinboro University on February 18, and the PTFCA state championship will be February 25 at Penn State.