Growing up, Jennifer O'Shea was pretty much a permanent fixture in the gymnasium at Chartiers Valley High School where her father was the assistant boys' basketball coach. Beginning when she was seven years old, she would tag along with him to practices every day after school, something that sparked a later career as a standout player in high school and college, and an enduring love of the sport that continues to this day.
"My dad was always my inspiration," says the third-year head coach of the Fox Chapel Area High School girls' basketball team. "He was a really good player and worked with me in the backyard everyday. In the winter, we did ball handling drills in the basement."
Her efforts eventually led to a trove of accomplishments. She was a four-year starter on her Carlynton High School team where she played point guard, was voted all-section each season, and was an important weapon in her teams' WPIAL and PIAA playoff games all four years. Coach O'Shea was also known for her court vision, great passing skills, high percentage of scoring three-pointers, and deftness in holding onto the ball, all of which played into her reaching 1,564 career points. After high school, she was selected to play for the Washington & Jefferson College women's basketball team, and earned a position on the All-President's Athletic Conference Team.
"To be honest, what I remember most about that time is just being part of successful programs, playing with some really great players, and having one of the best coaches [Mike McConnell] in girls' basketball in the WPIAL," says Coach O'Shea, who now teaches ninth grade American Government and a seniors-only Advanced Placement class in European History at Brentwood High School.
Coach Mike McConnell, who gave Coach O'Shea her first coaching job in 2002, now owns the best winning percentage in the WPIAL since 2000 and earned 500 wins faster than anyone in WPIAL history. His influence on Coach O'Shea and his philosophy of coaching, along with that of her father, have been instrumental in the evolution of her own leadership style, which she describes as competitive, caring, determined, and passionate.
A Perfect Team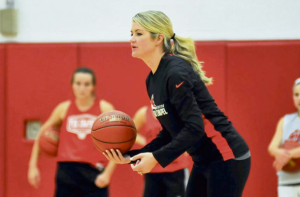 Luckily, Coach O'Shea found the perfect assistant to embrace her aspirations and goals for the Fox Chapel Area team, her husband Terry "T" O'Shea. Coach "T" was on the 1992 Carlynton High School state championship basketball team and was the 1992 Class AA Pennsylvania High School Basketball Player of the Year. He followed up those accomplishments by carving out a brilliant career for himself at IUP. "I was in sixth grade when he was a senior in high school," teases Coach O'Shea.
"The best thing about having my husband as an assistant, besides the fact that he was a great player and is a great coach, is that I have 24-hours every day to bounce ideas off of him," she says, noting that it's a frequent conversation in their household, in between taking care of their three young children. "We talk about what we can do to help the girls improve and what different approaches and strategies will help them to progress. Plus, where else would you find someone who is going to be 100 percent honest with you? And believe me, he can be brutally honest at times."
While Coach O'Shea has learned many lessons in her 14 years of coaching and by working with some of the area's most respected leaders in high school basketball, perhaps the most important thing, she says, is "there's more to coaching than just winning."
"Every season I tell the girls there are three things I look for in my teams, and none of them are skill-related," reveals the coach. "I stress that it's important for them to be good teammates, to do their very best in every single game, and to do their job on the court. Technical skills can only take you so far; you need those intangibles to really succeed. Most of all, I want them to come away with a positive high school experience and the confidence they'll need to make important decisions in life."
While it's still very early in the 2016-2017 season, Coach O'Shea is optimistic her team will continue to make strides, despite being bumped up to the highest WPIAL classification and playing in a tougher section. Last year, the team posted a 9-3 section record, averaged 52.2 points per game, and made it to the WPIAL playoffs. They all are well aware of the task before them this year, but then again, Coach O'Shea has always made sure they played a tough schedule, so this season really is no different in that respect.
"I love the way this group plays as a team," says Coach O'Shea. "They really want to win and they do an outstanding job of supporting each other. Their determination was evident even back in our off-season when we had the most girls participating in workouts since I've been here. They are hard workers, focused, and willing to learn. I think those attributes are key to any successful program. You can have all the talent in the world, but if you don't have chemistry, you are not going to go far."