Erin Mathias took six years of French throughout college and high school. Knows the language exceptionally well.
But …
"It won't help much now," she said, laughing.
No, not in Italy, where she'll need to trade her "Bon Jours" for "Buona giornatas" while playing professional basketball for USE Scotti Empoli, a team that went 26-2 and won the Italian Serie A2 championship last season.
A Fox Chapel High grad who recently wrapped up her career at Duke University, Mathias holds the distinction of being the first U.S.-born member of the franchise, which is moving to the top division of the Italian league.
"The team is mainly Italian-born players," said Mathias, a budding star in the fashion-design industry who will live just outside of fashion hot spot, Florence. "Those of us who aren't are called, 'imports.'"
It is no stretch to say that this 6-foot-4 "import" is playing the best basketball of her career. In her first full season as a Duke starter, Mathias averaged career highs in scoring (8.6 points), rebounding (5.9), assists (1.8), steals (1.4) and blocks (1.2, 11th in the ACC). She also scored in double digits 15 times, posted three double-doubles and was a candidate for the Lisa Leslie Award as the nation's top center.
The Blue Devils finished 24-9 (16-1 at home) and won two NCAA tournament games before falling to national runner-up Connecticut in the Sweet 16.
"It was my favorite year of college basketball," she said.
There was a time when Mathias thought a professional career was a long shot, particularly after coming off the bench for three years at Duke. But her emergence this season changed her viewpoint.
So much so that it caused her to put a full-time fashion career on hold.
"At the end of the season, I had to decide if I wanted to keep playing or go a different route," Mathias said. "But during the season, I started to get comfortable with myself as a player and things were going uphill. So, I figured, I can't stop now. I signed with an agent who had connections all over Europe and we decided Italy was going to be the best option for me."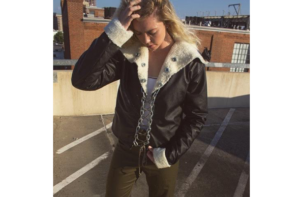 Although Mathias will prioritize basketball once arriving overseas on Aug. 23, she will continue to design and produce custom items, primarily coats, when time permits. She is gaining an expanded client base through word of mouth, social media and her website, erinmathiasdesigns.com.
"People can come to me and we'll collaborate on a coat design," she said. "I love doing custom pieces, one of one unique items."
Unique would describe a coat she made recently. It featured denim sleeves (made from an old pair of jeans) and faux shearling fabric. The buttons were made of beer bottlecaps, which were painted, then covered with pennies dated in the year the client was born.
Details make the difference, she said.
"I enjoy putting the time in, doing things the way people want them," Mathias said.
Mathias is considering taking classes at Polimoda, rated the top fashion school in Italy. But not at the expense of basketball … at least, not now.
"I love playing basketball and I've had to go through some ups and downs to get here," Mathias said. "My first three years at Duke were challenging, for sure. A lot of people would have transferred to get more playing time somewhere else. But I loved my teammates, I loved my coaches and I believed that if I stuck around, good things could happen for me and the team."
She was correct, on both counts.
"I'm definitely in a zone right now," said Mathias, an ACC All-Academic team selection who earned a degree in visual arts and media studies, along with an innovation and entrepreneurship certificate in May. "I feel like I'm a rising player. So, I want to give it my best and see where I can go with it."