Former Foxes' soccer players Jourdan Gottlieb and Lauren Kelly didn't share the field when they were in high school, but today they enjoy a different kind of camaraderie as part of a growing number of women professionals who work in the National Football League (NFL).
Jourdan, a 2010 alum, works in social media for the Tennessee Titans, and Lauren, who graduated in 2014, is part of the Miami Dolphins' marketing department. The fact that two Fox Chapel Area women have been able to break into this traditionally male-oriented business is unique enough, but the similarities don't stop there.
Resemblances Abound
Both Jourdan and Lauren were in National Honor Society in high school, played center midfield, were captains of their Foxes' teams, graduated from college with honors, and played on their college teams. Additionally, both landed internships with the NFL that served as springboards to their future careers.
What's remarkable is the competition for jobs in the NFL is fierce, and just one open position for an intern or full-time employee in marketing or new media can draw hundreds of applications within 48 hours.
Once you get there, the hours are long. They both work seven days and about 60 hours a week, and begin preparations for each game about five days beforehand. The NFL staffers then arrive at home games four or five hours beforehand and stay hours afterward, and most often miss holidays with their families because they fall during the season.
Despite that kind of a schedule, they say it's worth it – especially with both of their teams going into week five of the season with 3-1 records and leading their divisions.
Jourdan's Path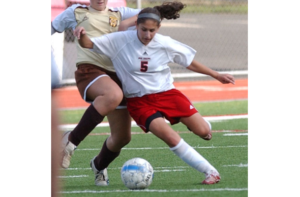 Jourdan has been working in professional sports for about three years, but she was entertaining the idea even during her college years at Washington and Jefferson College, where she majored in information technology management.
"My first break in the sports industry was during my college summers when I interned with minor league sports teams in the Pittsburgh area as a graphic designer," says the Foxes' former all-section athlete. "When my college career was coming to an end, I took a job as a digital marketing coordinator at a water treatment plant because it was semi-inline with my degree. However, I quickly realized that was definitely not for me, so in 2015, I applied for and received an internship position with the Pittsburgh Steelers' digital media team."
Before her internship ended, Jourdan was offered and accepted a position with the Pittsburgh Penguins as the new media graphics coordinator, but she had always wanted to be involved with the broader field of social media. Her current position with the Titans offers her that opportunity, and her daily duties now include assisting with social media strategy, campaign ideas, content collection, and more.
While Jourdan knew nothing about Nashville and knew no one when she moved there, she is very pleased with her decision and realizes that in this field, you might have to relocate in order to advance to higher positions. Plus, she says, "being part of a professional sports organization that is run by a female is truly an honor and something I take great pride in."
Lauren's Story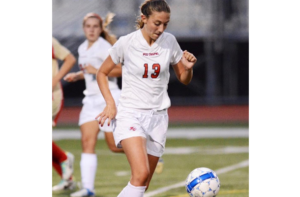 Lauren was an all-WPIAL four-year soccer starter in high school, was a captain three years, and went on to play for four years at Division I Winthrop University in North Carolina. She graduated with a degree in international business, and believes her experience with soccer not only helped to improve her game, but also fostered a lot of personal development. But, obviously, her enthusiasm for sports extends way beyond soccer.
"I grew up a big Pittsburgh sports fan and have always been interested in finding a way to blend my creative mind with my love for sports," Lauren says.
In 2017, while she was in her senior year in college, she was offered an internship with the Dolphins' marketing team and impressed them so much that they asked her her to stay on.
"When I was approached by the Dolphins to come back to Miami after my internship, I did not hesitate!" says Lauren, whose current title is marketing coordinator. In that position, she helps manage creative projects that range from in-stadium signage, social media posts, email marketing, and app design.
She contends that the Dolphins set the standard for social media marketing, and Jourdan agrees that they are an influential force in the NFL.
"The Dolphins organization is unique in that it is one of the only teams that keeps all of their design in-house through their own creative team," Lauren explains. "What is also unique about this opportunity is that I don't just work for the Dolphins. I also get to help manage projects for all Hard Rock Stadium events, including concerts, International Champions Cup Soccer, and the Miami Open."
Social Media the Future of the NFL
Although they still have not met, the former athletes believe that social media and social media marketing are the future of the NFL, and are glad they took a leap of faith to learn and grow in this fast-paced industry.
"It has been a bit of an adjustment moving from Pittsburgh to Miami; they are two very different cities," Lauren says of her relocation. "I'm happy that I challenged myself by going to a college where I knew no one, so in a way, starting over here is similar. I don't think it will really hit me until the winter months when I don't see snow!"
Jourdan says, "I love country music, so I had always thought about living in Nashville. So, here I am, enjoying the city, the music, and my job."
Back here at home, the Fox Chapel Area couldn't be prouder of these alums for having the fortitude to make it in the NFL. And, we'd like to think that growing up here, attending school in the district, and playing sports for an excellent athletic program had just a little bit to do with it!