So far this season, Fox Chapel Area cross country coach Tom Moul is getting pretty much what he expected out of his teams, but there also have been a few nice surprises in the first two regular-season invitationals.
Starting off the season was the annual Gateway Invitational, and, as they have done in the past, both teams won the event. It was the sixth consecutive win for the girls and the fourth for the boys team. Also, junior Clara Kelley's first-place individual finish was the sixth time in as many years that a Foxes female runner finished on top. For the boys, junior Rowan Gwin placed second.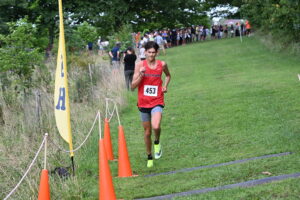 It was a good showing for some younger runners as well, who were pleasant surprises this early in the season. Placing in the top five for the Fox Chapel Area girls, in addition to Clara, were freshman Marin Airik, who took third overall, junior Emily Harajda, and sophomores Yuqi Zhou and Sarah Michalak.
"Marin pretty much came out of nowhere," says coach Moul. "She ran track in eighth grade but had no cross-country experience. So, we were very pleased with her performance, especially since she is a freshman, and look forward to seeing what she can do during the rest of the season."
The top five boys place-winners at the Gateway Invitational from Fox Chapel were Rowan, sophomore Altai Yumak, junior Max Kaizer, freshman Mike Costello, and sophomore Nicky Clump.
"I was happy with my time," says Rowan, who hit 50 miles a week at the peak of his summer training. "It was a huge improvement from last year. I ran one minute 30 seconds faster this year, so it's good to see my hard work over the summer had an impact on my success."
Red, White & Blue Classic Tests Runners
Rowan had an exceptional race at the Red, White & Blue Classic, where he placed 12th. The race attracts a much larger field of schools and runners, and indicates how things might shake down later in the season at WPIALs.
"I was pleased with Rowan's performance," says his coach. "He ran and finished in the top group, which is where I hoped he would be at this point in the season. He's also done a great job for us thus far leading this group of young runners, taking the helm from a group of seniors last year."
"Overall, the boys varsity performance was not bad considering Nicky lost his shoe and ran most of the race either trying to put it back on or leaving it behind. Ethan Vaughan (sophomore) ran pretty well in his first race back after missing the Gateway Invitational."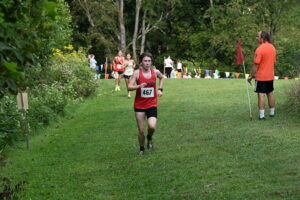 Coach Moul placed all of his freshmen in the ninth-grade race. Marin placed third in the girls race. In the boys event, Mike placed fourth, and Ross Calig was 12th.
"Overall, we have freshmen who seem really into the program and are hard workers. I'd say this is one of the more mature freshman classes I've had," says the coach.
According to MileSplit, in the 2022 Red, White & Blue Classic varsity races, nearly 250 girls runners and more than 230 boys were registered. More than 110 girls and nearly 150 boys were registered for the freshmen races.
Next up is the Kiski Area Invitational on September 17, which will be about double the size of the Gateway Invitational.
"Clara will be back, and along with freshmen Marin and Charlotte McLeland, and all three of them could be in our top five," coach Moul says.
"It's a great feeling to see all the underclassmen go through their first high school season," says Clara. "I'm really excited to see what they can do this season and in their high school careers."