To be honest, when you first see the Kieffer triplets – Abby, Maddie and Evan – you would never guess that they are related, much less a trio. They don't look alike, they all have their individual personalities, and contrary to what some people believe, they don't have telepathy about what the other is going to say or think.
But among the things the juniors do share is a love of running. Born just a minute a part, all three are great athletes, members of the Foxes' track team, run similar events, and can be very competitive with each other.
One of those competitions involves Maddie and Abby, who will face each other in an on-track rivalry in the 400-meter race.
"Competing against each other will be fun," says Abby, the eldest. "I'm definitely always competing with Maddie in every possible way! I think running against each other will help us to push ourselves harder."
Evan also will run the 400 for the boys, and all three athletes are part of their respective team's 4 x 4 relay teams.
In a way, their fondness for running was destiny. Both of their parents ran in high school, and while they encouraged their trio to play a lot of different sports when they were younger, they couldn't be more pleased that running is a common denominator that unites the Kieffer household.
Abby Gives Running a Second Try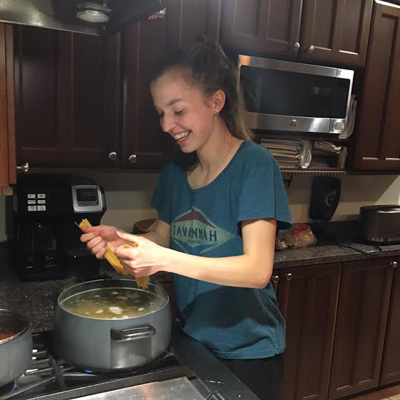 When Abby was a freshman, the track coaches thought she'd be a great distance runner, but she really didn't like it too much. Thinking maybe track wasn't for her, during her sophomore year Abby focused on playing volleyball year-round, but Maddie kept trying to convince her to give indoor and spring track another shot.
"When Abby came out for the indoor team this year, we saw that she was really good in the longer sprint races," says Coach Tom Moul. "I think she surprised herself at how well she did and we're expecting her to have a good year in outdoor."
"My goal this year is to get the outdoor record in the 400 and get to WPIALs," Abby says, knowing fully that she would literally have to push her sister out of the way to get there! "That might be a bit of a stretch for me, but I definitely want to advance and place at WPIALs."
While volleyball also remains one of Abby's passions, she's giving it her all during track to make up for her short hiatus. "What I love about running is that I feel relaxed and any stress I have goes away," says Abby, who also finds cooking and baking a good way to unwind. "It's really a good outlet and allows me to challenge myself."
Maddie, the Nurturer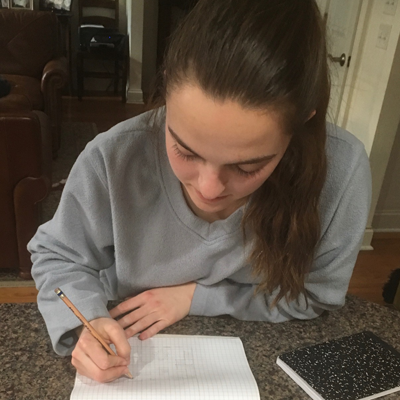 Even though Maddie is technically the "middle child" of the three, she is the one who her brother and sister say is the "mom" of the group and is the first to make sure they are OK, no matter what the situation.
But at track meets, there's not much time for Maddie to check in with her brother and sister. In addition to the individual 400 race, Maddie also runs the 200. She's advanced to WPIALs the past two years in the 400 with a personal best time of 62.5.
"I think I like the 400 best of all of my events, but I've had more success as part of the 4 x 4," says Maddie, who also plays volleyball for the Foxes, but hopes to run in college. "My goal is to get my 400 time down to 60 or sub-60. Our indoor 4 x 4 team broke the school record, and we could potentially get the outdoor record and go to states this year. Our end season time last year was 4:13, and the school record is 4:06. We all feel we can get it down to that."
Maddie places a lot of pressure on herself to excel in both academics and athletics, but she often relaxes by taking out her sketchbook.
"I'm the doodler in the family," she says. "I've loved art ever since I can remember. Then, in sixth grade, we had to do a project to design a house plan, and ever since then I was hooked on interior design and architecture. But after thinking about it, I decided to major in civic engineering in college and maybe minor in architecture."
Evan, the Outdoorsman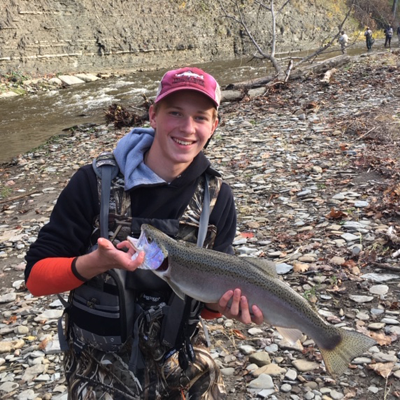 Track is a natural fit for Evan, the youngest of the triplets. There's almost nothing he'd rather do than hunt, fish, and be outdoors. Until a few years ago, however, he did not see running in his future. He was involved in soccer and basketball, but couldn't envision himself continuing soccer in high school. That left him with only basketball, which he decided not to do after ninth grade.
"My mom almost forced me to run because she didn't want me just sitting around," jokes Evan, who has run indoor and outdoor for three years and wants to pursue environmental studies in college. "Even though I didn't want to do it at first, I have really fallen in love with it."
Last year, Evan made it to WPIALs as part of the 4 x 4 relay team and remains an integral part of it this year. Just recently, the 2019 4 x 4 team broke the indoor school record, and Evan thinks the foursome have a good chance to make it to WPIALs again.
"One of our coaches, Mike Mawhinney, was part of the 4 x 4 that set the outdoor school record in 2010," Evan says. "We want to beat that and make it to WPIALs."
Triplets a First for Coach
In his many years at the helm, Coach Moul has coached twins, but never triplets. This group is special, he says.
"It's kids like this who are the foundation of a good program," Coach Moul says. "They love the sport, are team-oriented, hard-working, and great competitors. The fact that they are really talented is a bonus!"