Large, lively, vocal student sections have been known to make the difference when it comes to the outcomes of close games – be them high school, college, or even the pros. That's exactly what the Fox Chapel Area High School student leaders are counting on to happen at this week's tough football game against Upper St. Clair, which is certain to draw spirited fans on both sides of the field. After all, the game is a rematch of one of the Foxes' most memorable games in 24 years – their victory over USC in the first round of last year's WPIAL Class 5A playoffs.
Student leader Dom Cassol looks forward to the game saying, "We plan on having a huge turnout since we have history with USC."
Dom is just one member of the seven-member senior leaders group that was hand-picked by last year's leaders to carry on the momentum. In addition to Dom, Jack Delaney, Will Fera, Cooper Friday, Jimmy Hanna, Jay Nanci, and Owen Patel compose the group charged with leading school spirit, or as they were known in the "old days," the pep club. But today's student section activities are much more organized and sophisticated than in days past when posters were hung inside on the school walls to announce games. In fact, so much goes into preparing and promoting upcoming events that the group increased in size from two or three members in the past, to seven this year.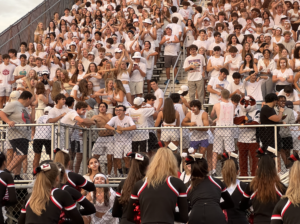 Jimmy says, "I think we have so many (leaders) this year because of the different things we can all bring to the table to have the best student section possible and bring value to the effort. A lot of us are creative and are in the Foxes Den (class), so we are involved with designing posters, clothing, and T-shirts for theme nights, and then marketing them."
The group is brainstorming to come up with some fresh ideas, but they are also bringing back some of the student body's favorite theme nights – tropical, whiteout, blackout, Pink, Wild West, and USA. The game against USC on September 16 will be USA night. Fans are asked to wear red, white, and blue to the matchup, which begins at 7 p.m.
The group also came up with the idea to pick a male and female Fan of the Week. The winners are selected based upon their theme garb, frequency of starting chants, and, in general, their ability to get students and fans fired up. Seniors Colin Westerberg and Mia Nury were selected the first week during tropical night, and seniors Andy Michalak and Mercer Murton got the honors at the whiteout-themed game.
With student sections all over the country becoming more creative and educated about their opponents' records, capabilities, and even their fan bases, the Foxes' leaders also are keeping pace with new trends, including the most effective uses of social media to get their messages out.
The student section has maintained a Twitter presence for a while, but this year it's added Instagram to help promote and hype games. A new feature is video clips of fan and player interviews in the week prior to a home game. The ultimate goals are to increase school spirit, increase attendance, and just get students more invested in their school teams.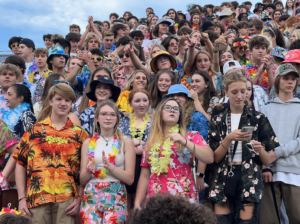 "We have some very creative people in the group, and we work closely with the Foxes Den class to create posters and also to design clothes and theme night T-shirts that we sell in the store," Jimmy says. "Most of our student (spirit) leaders are members of that class, so we also work with other students to create ads and announcements that we place on the school's closed-circuit TV station."
Dom knew when he accepted the position that there were big shoes to fill. Last year's student leaders did a great job of helping to increase awareness and attendance at football games and then at boys basketball games as the team advanced to win the WPIAL Class 6A championship and were PIAA semifinalists.
"I know this group, and we can get the job done again," Dom says. "No one leader has a certain role. We like to work together as a team and find ways to get the students involved as well. For example, if we are stuck on deciding between two themes, we will post polls and see what the students want more."
The students' enthusiasm is contagious, and even some adults have been known to join in on the hoopla and dress up, too.
In the end, what the student leaders are doing to get their peers together is also bringing together younger kids in the district, parents, and members of the community. Just for an hour or two a week, everyone wants the same thing: to have fun, be positive, put the week's pressures aside, and cheer wildly for a common goal.