As a freshman, Sophie Shao came to the Foxes swim team already a star. Now a senior, she is just as exceptional as she was then. Exceptionally competitive, intelligent, and full of vigor and positivity, Sophie has achieved a career that has been marked by the kind of perseverance and mental toughness that leads to elite levels achieved by few. And she's not done yet.
A birds-eye view of Sophie's remarkable achievements speaks for itself.
Two-time state champ in the 100 butterfly
PIAA silver medalist in the 100 butterfly
Three-peat WPIAL champ and record holder in the 100 butterfly, including last year when she set a new record (53.85) previously held by Penn Hills' Melanie Buddemeyer in 1984 (54.16). Sophie is now faster than she was at last year's WPIALs.
WPIAL champ in the 200 IM
Six pool records, three of them relays (200 medley, 200 freestyle, and 400 freestyle), and the others in the 100 butterfly, 200 IM and 100 breaststroke. She has broken her own records multiple times, beginning when she was a freshman.
"I have already dropped time from last year's WPIALs in the 100 fly at Winter Junior Nationals in December," she says. "I went a 53.66, but I definitely have more room for improvement. My goals are to get it down to sub 53 seconds, and I want to get my 200 IM down to sub 2 minutes."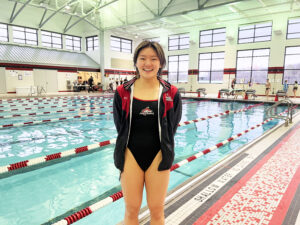 With the 2022-2023 WPIAL championships on the horizon, Sophie already has qualified in every individual event, eight in all – the 50 freestyle, 100 freestyle, 200 freestyle, 500 freestyle, 100 backstroke, 100 breaststroke, 100 butterfly and 200 IM. She is the top-ranked swimmer in the 100 butterfly and 200 IM, the two individual events she has chosen to swim at the championships. She will also race in both the 200 medley and 400 freestyle relays.
"I remember after states last year thinking, 'I could have gone so much faster,' " says Sophie, a three-time athletic and Scholastic All-American. "My goal has always been to drop time, but this year I know who I'm up against (at the WPIAL and PIAA championships), and it's going to be both challenging and rewarding to see even bigger drops than last year."
Fox Chapel Area High School swimming coach Dan Taylor adds perspective, saying, "At her level, time drops come at a few hundredths or tenths at a time. Sometimes the difference in a race can come down to one turn. There is not much margin for error. Sophie works very hard on perfecting the details that go into her races. That, coupled with hard work, is what allows her to improve."
"It comes down to paying attention to the littlest details and having the mental toughness to break through barriers if things aren't going as I want," says the Brown University recruit, who says one swimmer, in particular, will be a very tough opponent again this year – the 2022 PIAA gold medalist in the 100 butterfly, Annie Jia from Hatboro-Horsham High School. "It's been good motivation for me to swim against people who are better than me. Afterward, if I didn't meet my goals, I'm not upset with anyone but myself, and I know what needs to be done to get to that next level."
No matter what the outcome, Sophie remains a model athlete and leader – humble in victory and gracious in defeat.
The Making of a Champion
One might assume Sophie was born to swim; she says that's not the case. Her mother wanted her and her older sister Vivian (a recent alumna now swimming at MIT) to be safe in the water, so she gave them a crash course when they were young. But the sport wasn't love at first swim, so she played many other sports when she was younger, including basketball, and also did ballet. However, by the time she was 13, she had made a name for herself at the U.S. Winter Junior Nationals when she medaled after a 10-second drop in her time in the 200 breaststroke over the course of one day.
The pandemic hit when she was 15, and it might have been the only time in her career that she began to doubt herself. She wondered whether she could come back in top form after not being in the pool for such an extended amount of time. She did, and then some.
Now, this is Sophie's final chance to prove to herself what she can do.
To get there, Sophie's regimen incorporates high school training, her club swimming training that is designed for high-level athletes, and then she adds on her own twists to further challenge herself, among them practicing twice a day.
"I also like aerobic work because it has set a solid base for all of my races and has really helped me finish my races stronger than ever," says Sophie, an accomplished artist who has never scored below an A- in any of her classes. "I'm doing things that push me to do things I've never done before, like swimming 2,600 yards of freestyle for a straight 30 minutes. That's what I've found to be most effective."
That being said, Sophie doesn't spend much time worrying about the things she cannot control, such as the race times of her competitors.
"Comparing yourself to others is very detrimental, but using them to help achieve your goals is very beneficial," comments the wise swimmer who describes herself as not being a medal seeker, per se. "I just want to see improvement in my own times, so I'm basically racing against myself at this point. I'm trying to get the most out of every single practice. But, if I am able to bring home one gold medal this year, it would be in the 100 fly. It's going to be a good race!"