Foxes' quarterback Shane Susnak had just returned home from his family's relaxing weeklong vacation and knew he had to switch gears quickly. Leaving the memories of hangtime and leisurely fishing behind him, Shane and his teammates were about to kick off the 2019 football preseason the following day with heat acclimation practices. On one hand, it's not something the players exactly look forward to, but there's also a lot of excitement in the air as they finally put into motion what they've learned and practiced repeatedly during voluntary workouts over the summer.
For Shane, the learning part of the game comes pretty easily. It's probably safe to say he is one of the most intelligent athletes in the WPIAL, and he may even hold the top post. The second-year starter scored a 1540 on his SATs, only 60 points away from a perfect 1600, 35 out of 36 points on the ACT, and was among the country's highest scoring juniors on the PSAT. Shane has never earned anything less than an A since kindergarten, carries a 4.4 grade point average, and takes a heavy workload of Advanced Placement and honors classes.
However, Shane immediately adds, "We have a lot of other smart kids on the team. But I think what's even more important is that we have really good chemistry, especially the seniors. We've all been playing together for a really long time."
Besides Shane, that close-knit group of seniors who will lead the team this year includes Ryan Billings, Sam Brown, Eddie Farrell, Warner Macklin, Alejandro Morales, and Alex Wecht, many of whom have earned state all-academic status and are honor students. Collectively, and with the help of other emerging players, they are determined to improve over last year's results.
Putting a High IQ to Work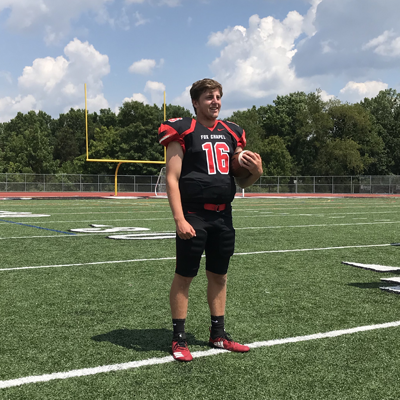 The question remains, "Do smarts transfer to the field?"
Shane's coach, Tom Loughran, is quick with an answer about his quarterback.
"Shane is a very mature, heady kid," says the coach. "There are some kids who are smart in academics, and others who are smart players on the field, but Shane is both. With Shane, I can explain a concept and identify a schematic, and he understands it immediately. He just gets it, and he does it right the first time."
Last season, his first year as a starter, Shane threw for 1,128 yards – the most in recent school history – even though he missed the last two games due to an injury. He also contributed nine touchdowns and only threw six interceptions out of 161 attempts. Both Coach Loughran and his quarterback say they are continuing to tap into Shane's talent and potential in the air to improve his completion percentage, but they've also worked a lot in the offseason to give his ground game a boost.
"I think a lot of it is just feeling more comfortable maneuvering around in the pocket, and you only get that through experience," says Shane, who is known for his thorough game preparation, decision-making skills, and ability to read defenses.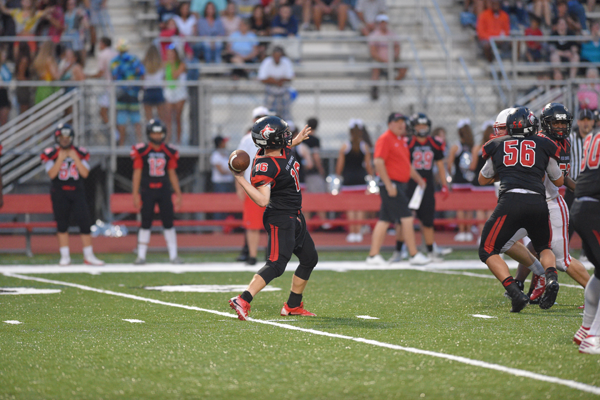 Shane also says that part of earning the success the team wants is to eliminate costly mistakes. Some of that challenge can be solved by knowing the playbook better, something Shane memorized a while back. Personally, he doesn't need to rely on it anymore since he knows all of the plays by heart, but when others have questions they are advised to "ask Shane."
"I like helping my fellow players, so I have it with me all of the time," Shane says. "But being a good player is a combination of two things. Studying the playbook is really important, but you can study it as much as you want, and things still are going to look different when you get on the field. But putting that knowledge into action with practice reps is critical and really important to get down our timing and chemistry. I think we're doing a better job at learning the playbook this year and going through concepts and getting things down right."
Most of all, Shane says the seniors plan on making their last year playing together a memorable one. "We just want to have fun and take advantage of opportunities to be successful and win."