Ron Frank is always on the hunt for athletes to join his wrestling team, and their gender doesn't concern him at all. His philosophy is that good athletes can be trained in the techniques of the sport, as long as they have an outstanding work ethic, a desire to learn, and can withstand the rigors of what is referred to by many as the toughest of all sports.
Jordana Matamoros, a senior who holds down the 106-lb. weight class position on the Foxes' wrestling team, has a great story about how Coach Frank went about recruiting her.
"When I was in ninth grade, Coach Frank started asking me to wrestle," Jordana says with a laugh as she recalls the story. "He would come to my ceramics class every day trying to convince me. I had no intention of joining the team, but he was so persistent, and after a while I was so sick of him coming to my class that I just gave in."
Today, the three-year letter earner says she loves the sport and the physical and mental challenges that go along with it.
"We saw her as someone whose background in wrestling and the martial arts, and her confidence in her own ability, would make her a solid wrestler. Jordana is hard working, strong for her size, not afraid of challenges, and a good athlete," says Coach Ron Frank, whose son Michael Frank is a teacher at Fairview Elementary School and a Foxes' assistant wrestling coach. Michael first noticed Jordana when she was his student and a member of the Foxes' eighth grade team.
It seems as though Jordana inherited her athleticism and grit from her parents. Her mother was a cross country runner for the University of Florida and a three-time cross country state champion in Montana, and her father was a Navy Seal. She says when she first told her parents that she wanted to wrestle, they were fully on board with her decision.
"My parents have always supported everything I've done and have helped me get to the point I'm at," Jordana says.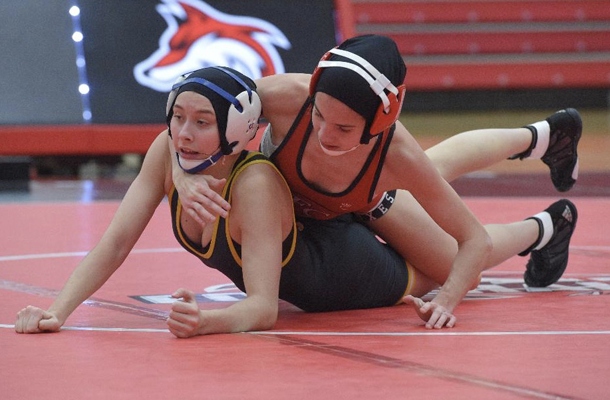 Top Contributor
From her sophomore year on, Jordana has been a top point-earner for the Foxes. So far this season, she is tied for the lead in most team points, has six pins, won eight of her matches, and has 28 career wins. Recently, at the Steve DeAugustino Holiday Classic that drew 34 schools, Jordana earned a medal by scoring a fall in the second period in her final match.
Jordana has also participated in state and national tournaments with USA Girls Wrestling and other organizations. She placed third at the female Pennsylvania state competitions for three consecutive years, and last year decided to enter the folk- style nationals.
"It's been an honor and a great experience for her," says Coach Ron Frank, "and as coaches, we are most proud that she stands unafraid of challenges."
A Pioneer in Girls' Wrestling
While it's still fairly unusual for girls to participate in high school wrestling, female participation continues to grow nationwide. According to a 2017-2018 survey conducted by the National Federation of High Schools, girls partaking in high school wrestling increased for the 29th straight year. The survey also indicated that the number of schools with female wrestlers on their squads grew to 2,351, an increase of 260 schools.
While Jordana has dared to be different, she doesn't consider herself a pioneer. "I just want to be seen as a competitor," she says. So, she's pleased with Coach Ron Frank's comments regarding how the team and coaches view her.
"She's not a girl to us, she's a wrestler, a member of the team, and she wins," he says.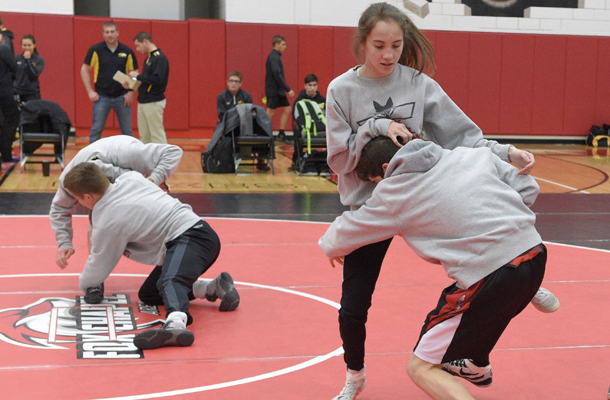 Battling Through
In the beginning, things didn't go as smoothly as she and her coach would have liked. In August before her freshman year, Jordana injured her elbow and had to undergo two surgeries. She was unable to compete, but after a medical clearance, was able to practice and was a member of the team.
Jordana found that her decision to wrestle tested her in many ways. "A lot of people say, 'You're really strong for a girl.' I wish they would just say, 'good match.' I've always realized that I'm mostly going against boys, and for the most part, I'm not going to be stronger than them. So I've worked really hard, put in a lot of work in every area, and focused on my technique. I'd describe myself as a scrambler and I like junk moves."
Jordana says she's never received a compliment for a job well done from a competitor, but that doesn't bother her.
"You just have to deal with the criticism and prove them wrong," she says. "You need to focus on getting better and be independent enough to not care what they think. I think wrestling, Ju-jitsu, and boxing have taught me how to block everyone else out except myself. They've also helped me to not really care what other people think. I'm just me and if they like me, they like me, and if they don't, they don't."
Two teammates who have much respect for Jordana and have worked closely with her are are the Morales brothers, her practice partners. "They have helped me more than anyone and we've always worked well together," she says of Juan, a 2018 graduate, and current sophomore Jose.
Coach Michael Frank also has been a big influence. "He's shown me a ton of moves and he's a very good teacher. He's fun to be around, but he pushes us just as much as Coach Ron does," Jordana says.
Going forward, Jordana is, as usual, straightforward with her thoughts. "It's a one-on-one sport and either you're better than the other person, or you're not. My goal this year is to wrestle with the attitude that there's nothing to lose."
Jordana says she hasn't had a "proudest moment" yet in her wrestling career, but a lot of people would disagree. It's not easy to be a forerunner, but she's done it with class and determination and set a noble example of how to stay strong and focused when confronted with challenges.