Fox Chapel Area cross country runners Rowan Gwin and David Black are headed to the PIAA Class 3A championships after placing third and ninth, respectively, at the recent WPIAL championships at White Oak Park. The state championships will be held Saturday, November 4, in Hershey.
Both runners' finishes were personal records. Rowan, a senior, jumped four spots from his finish last year, and David, a junior, will make his debut at the state level. Their accomplishments are significant because WPIAL District 7 is known for producing one of the deepest fields of runners in the state.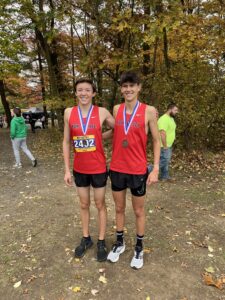 Rowan, the team's top runner for the past two years, pointed out his teammate's breakout performance, saying, "He had a great race and has come a long way since last year. He really stepped it up this year at these big meets."
Coach Moul echoes Rowan's thoughts. "I told David last week that if he could finish in the top 15, he'd medal and most likely qualify for the state meet. To finish ninth was pretty amazing. He has a very tough racing mentality, and when he makes up his mind to do something, you can pretty much count on it.
"And Rowan, considering where he was in June and July when he was rehabbing his injury, has done a great job. He understands all aspects of the sport really well and has always bought into our program fully."
Strategies Were Keys to Success
Rowan admits when he got up the morning of the championships, he was nervous. More than anything, he wanted to get back to states again, and he was quickly approaching his final run as a Fox Chapel Area cross country racer.
"I knew if I raced similarly to my strategy the week before on the same course that I would be in a good spot," says Rowan. "I decided to use a strategy that had worked for me at the Tri-State Track Coaches Association (TSTCA) meet."
The leaderboard for the first three finishes was the same as it was at WPIALs.
"I knew that a top-three spot was within reach at the WPIAL championship," says Rowan. "I wanted to stay with (eventual second-place winner) Jack Bertram of North Allegheny for the first two miles and try to compete for second place. I did exactly that, and this allowed me to take third place overall. It gives me a lot of confidence that I can medal at the state meet, and that has been my goal since my freshman year."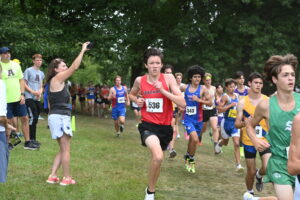 After completing the race, David, a junior, commented on his experience. "I was expecting and hoping for a top-10 finish, so getting ninth was awesome. For me, the most challenging part of the course was the second time going up the big hill and especially the final stretch, so I'm happy that I pushed through. I think my biggest problem previously was knowing how to perform well in the biggest meets, so I'm happy I mentally got over that."
With a week in between the WPIAL and state championships, the racers had little time to prepare.
"We had a couple days of easy runs to get them prepared," coach Moul says. "The course in Hershey is a nice course with a lot of rolling hills. It will be a fast race with all the best runners there. Rowan and David must get out fast because the course narrows very quickly and then there is a sharp right turn. They need to be in a decent position, or it will be hard to make that up."
David says, "We have really built-up mileage since the summer, so we just need one more week of good training, and then it's really all about showing what we can do."