The Foxes' girls' lacrosse team has a new head coach, Rebecca Hartrum, and she brings with her an impressive list of credentials.
Most recently, she was an assistant coach at NCAA Division III Christopher Newport University in Newport News, Virginia, and before that, she served as an assistant for the women's lacrosse team at another Division III school, Virginia Wesleyan University in Norfolk.
Also while in Norfolk, Coach Hartrum coached at the high school and club levels and, close to her hometown near Philadelphia, was an assistant for West Chester East High School.
Prior to coaching, Ms. Hartrum played for NCAA Division I Old Dominion University, where she was a three-year starter and a captain her senior year.
Coach Hartrum also has experienced the excitement of playing for a great high school team and understands the special bonds that are created among teammates at an early age. She was a four-year varsity player for her high school in Springfield, Pennsylvania, that won three district championships during her time there. In her junior year, the squad went 21-0 and won the PIAA District I championship. (At that time there were no state playoffs.)
Naturally, when she moved to Pittsburgh in July 2018, Coach Hartrum wanted to continue her participation in the sport in her adopted city.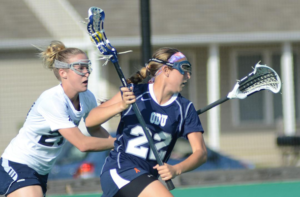 "Being new to the Pittsburgh area, I was looking to get involved with a school that had a high level athletic program and was supportive of coaches," says Coach Hartrum, who is known for her detailed practice plans that prepare players for anything they might encounter is game situations. "After touring the school with Athletic Director Michael O'Brien, I knew right away that I wanted to be involved with the Fox Chapel Area program."
She continues, "My favorite part of being a coach is the personal relationships you build with your players. Every player is different, on and off the field, and I enjoy getting to know them. That way, I can find out the best way each individual needs to be coached in order to get the most out of her."
"We are very fortunate to have attracted someone with Rebecca's qualifications," says Mr. O'Brien. "Her experience at the high school, club, and collegiate levels will enable us to continue to grow our girls' lacrosse program and maintain, or even exceed, the level of excellence it has achieved in recent years."
Although the spring sports season is still a few months away, Coach Hartrum is not wasting any time. After the first of the New Year, the players will start pre season practice and conditioning and can play on a team indoor league.
"I'm just looking forward to working with all of the girls and am excited to get started," the coach adds.